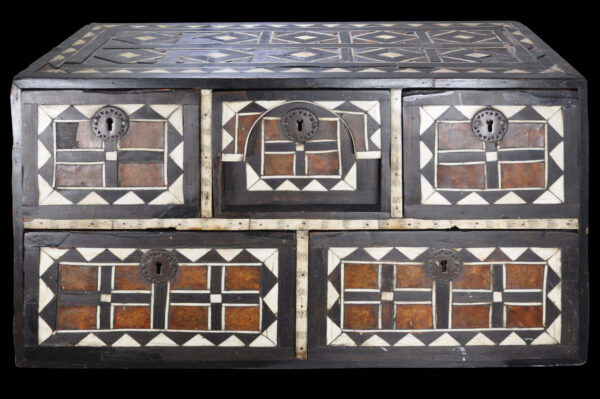 9193
Enquiry about object: 9193
Early Spanish Colonial Mexican Chest
Puebla or Campeche, Spanish Colonial Mexico early 17th century
width: 64cm, depth: 26.5cm, height: 36cm
Provenance
private collection, London
This rare chest, from Spanish Colonial Mexico, is made with indigenous tropical species such as cedar and possibly rosewood, and is inlaid in geometric, Mudejar-influenced, designs with etched bone tiles, wood and tortoiseshell using Moorish techniques and styles adopted in Mexico from the 16th century. The veneers are laid over and inset into a wood substrate. Bone was used as a less costly substitute to mimic the ivory inlays found in items imported from India and elsewhere in Asia. (Mudejar patterns from northern Africa were in use in Spain from the 13th to the 16th centuries.)
It has six drawers and retains the original brass key plates. Brass carrying handles on each side of the box also are original. The face of the upper middle drawer is inset beneath an arch, giving it an architectural quality.
The wealthier families in colonial Spanish America wanted to legitimise their place in the imperial by system 'proving' or at least hinting at noble linage and by demonstrating the purity of their blood (limpieza de sangre) – which typically meant demonstrating that they had no Jewish or Moorish ancestry. One means of doing this was by commissioning artworks  in a Spanish style to show their wealth and their taste. Items of furniture, silver and textiles were commissioned from local craftsmen, so whilst items were in a 'Spanish' style they nonetheless stylistically evolved along a colonial tangent.
Many of the artisans were based in Puebla, a city in east-central Mexico, southeast of Mexico City. By the 17th century, the city was a melting pot of ideas and influences due to migration and commercial travel. Puebla buildings were strongly influenced by European Baroque architecture too. Another possible centre for the manufacture of furniture items such as the chest here is Campeche.
See Díaz Cayeros (2021, fig. 6) for a related example in the Museo Nacional de Artes Decorativas, Madrid, which is attributed to 'probably' Campeche, and which is in a similar condition.
The chest here seems to be earlier than most extant examples of similar furniture. Several factors point to this: the simple shape, the fact that it was never fitted with metal corner fittings, and the principal ribs and columns to the front being overlaid with bone. The simplicity of style suggests that the chest had not yet been influenced by the early Baroque.
The chest here is in its original condition and is without any restoration. Some panels are missing and lifted. The reverse retains elements of an early paper label for Wilsons of Swansea (in Wales). This is likely to be a storage firm. The label probably dates to the first part of the 20th century indicating that the chest has been in the United Kingdom since at least then.
References
Díaz Cayeros, P., 'Mobiliario Novohispano con diseños geométricos: maderas, carey y hueso' ('New Spanish furniture with geometrical designs: woods, tortoiseshell and bone'), in Res Mobilis, Vol. 10, No. 13, 2021.
Gillespie, H., 'Pattern Research Project: Emblems of Colonialism – Mudejar Bookcase', Pattern Research Project, Virginia Commonwealth University, 2020.
Rishel, J.J. & S. Stratton-Pruitt, The Arts in Latin America 1492-1820, Yale University Press, 2006.