This unusual silver box has six sides are widens as it reaches the top, after which there is a six-sided domed cover which rises to a spiky finial.
The sides are chased with forest nymph nari-lata figures that emerge from the foliage, which is typically Kandyan and scrolling.
The form of the box is actually based on the King of Kandy's gold crown which also related to the unique headgear worn by the noble men of Kandy on ceremonial occasions.
The base is engraved with a large lotus flower motif.
This actual box is illustrated in the book on the Ondaatje Collection (Weereratne, 1999, p. 138).  Sir Christopher Ondaatje is of Sinhalese and Dutch ancestry and was born in Sri Lanka (or Ceylon as it was known) in 1933. A businessman, writer and Olympian, he is the older brother of author Michael Ondaatje, author of The English Patient, among other works.
The box is in fine condition and is a testament to the creativity of Kandy's silversmiths who produced items for both the local aristocratic and merchant class as well as colonial clients.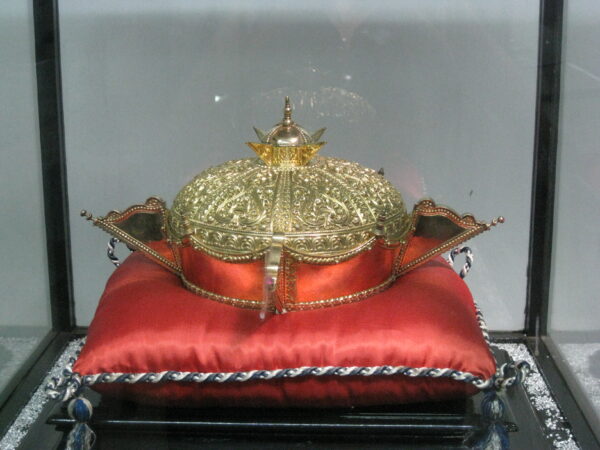 The crown of the King of Kandy, National Museum of Kandy, Sri Lanka.
References
Coomaraswamy, A.K., Mediaeval Sinhalese Art, Pantheon Books, 1956 reprint of the 1908 edition.
Weereratne, N., Visions of an Island: Rare works from Sri Lanka in the Christopher Ondaatje Collection, Harper Collins, 1999.