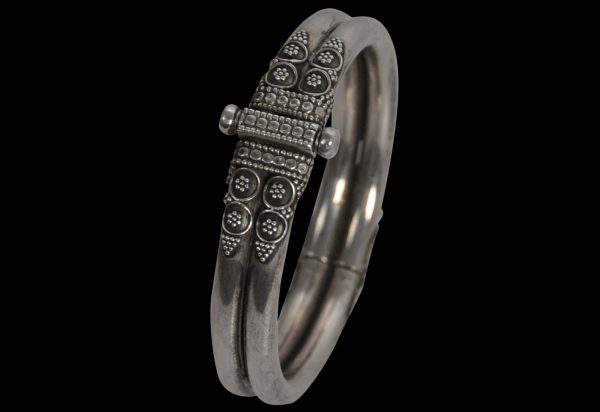 5607
Enquiry about object: 5607
Fine, Sri Lankan Silver Bracelet
Sri Lanka 19th century
Internal diameter: 5.7cm, width at widest point: 2cm, weight: 49.6g
This fine, elegant silver bracelet is hinged and opens with a small screw mechanism. It comprises two thickly-walled but probably hollow silver tubes that are joined and decorated with two equi-distant fields of applied granulation and wire work in triangle and flower motifs.
The triangular granulation work is typical of a type of jewellery that was produced in Sri Lanka. Related examples are illustrated in Geoffroy-Schneiter (2011, p. 114).
The bracelet is well made. It is in an excellent and wearable condition. It has a pleasing patina, a good colour and obvious age.
References
Geoffroy-Schneiter, B., Asian Jewellery: Ethnic Rings, Bracelets, Necklaces, Earrings, Belts, Head Ornaments, Skira, 2011.