This pair of candlesticks is from the royal capital of Kandy in central, southern Sri Lanka. They have been tested to be 95% pure silver (so more pure than sterling silver which is 92.5% pure.)
The pair is a replica of the wooden columns found in the 14th-15th century drumming hall (digge) of the Embekke Devala near Kandy in central Sri Lanka, not only in terms of their form, but also their motifs, which mirror the intricate wood carving found at Embekke Devala.
The Embekke Devala was the meeting hall of the Gampola kings. Later it was converted into a shrine for the Sinhalese war god Kartikeya also known as Kataragama Deviyo. The hall features a multitude of pillars or columns, each profusely but uniquely carved with what has become known as typically Kandyan motifs such as dancers, addorsed swans, creepers and vines, and stylised orchids. This type of column was replicated in other important meeting halls, monasteries and temples around Kandy, most notably in the inner sanctum of the Temple of the Sacred Tooth Relic in Kandy itself.
The candlesticks sit on wide, tiered, flared, square feet that are finely chased with scrolling foliage and lotus petal motifs. The stem of each candlestick rises from the foot, first with a plain, unembellished section. Next comes a complex section of alternating square and octagonal elements, each chased and engraved with scrolling vegetal, pineapple and floral panels. Flaring from the top of each candlestick stem are four dramatic capital elements, each deeply chased with scrolling foliage motifs. Each flares out with a square face that points downwards but which nonetheless is elaborately chased with floral motifs, just as the capitals at Embekke Devala are carved. A candle holder embellished with a crenulated fringe sits atop each capital.
Occasionally candlesticks in this style can be seen still in use on altars of Buddhist viharas (temples) around Kandy, but generally these are of brass. Perhaps the pair here originally was commissioned by a wealthy patron to be donated to a temple or monastery as an act of merit. Their condition is pristine. There are no maker's or assay marks.
A similar pair was sold by us some years ago to the National Gallery of Australia.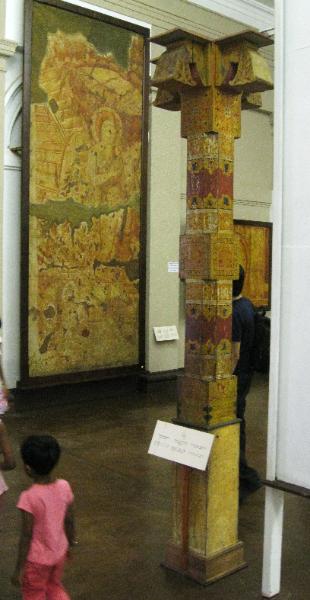 Above: A related painted pillar, Kandyan period, 18th-19th century in the National Museum of Sri Lanka, Colombo.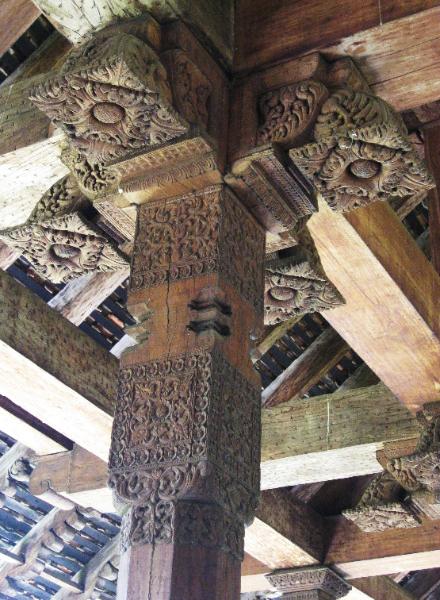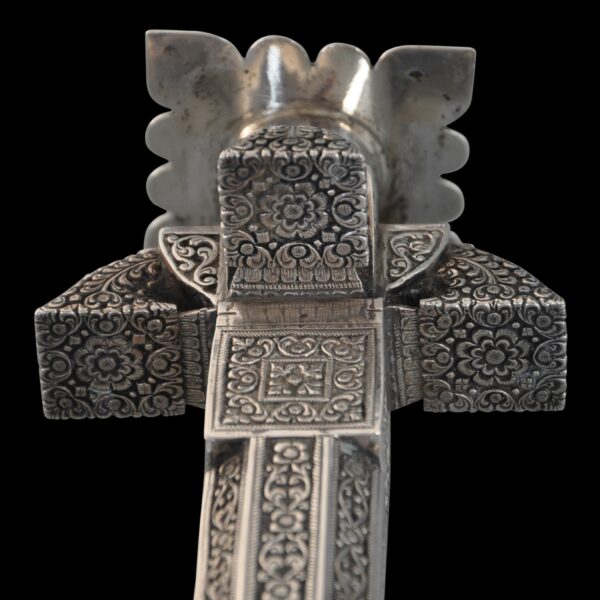 Above: Detail of the columns and capitals at the Temple of the Sacred Tooth Relic, Kandy, Sri Lanka, and the related section of the candlestick here.
References
Coomaraswamy, A.K., Mediaeval Sinhalese Art, Pantheon Books, 1956 reprint of the 1908 edition.
Seneviratna, A., The Temple of the Sacred Tooth Relic: History and Architecture of the Temples, Volumes 1, Vijitha Yapa Publications, 2010.
Seneviratna, A., The Temple of the Sacred Tooth Relic: Ritual, Customs & Ceremonies, Volume 2, Vijitha Yapa Publications, 2010.