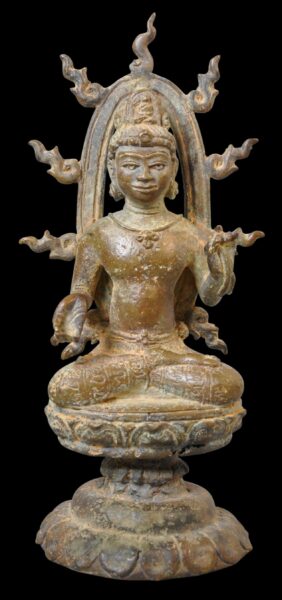 8806
Enquiry about object: 8806
Srivijaya Bronze Seated Avalokiteshvara
Srivijaya kingdom - Sumatra, Indonesia & Malay Peninsula, incl. southern Thailand 7th-8th century
height: 18.8cm, width: 8.9cm, depth: 7.6cm, weight: 1,203g
Provenance
private collection, UK
This unusual image shows an Avalokiteshvara image seated on a high, waisted, double lotus pedestal.
A fixed, dynamic, flaming aureole rises from the deity's lower back and rises over the high headdress.
Avalokiteshvara is shown in a slender form, seated cross-legged. He has a high chignon of piled hair with cascading curls. A small figure of the Amitabha Buddha, who represents mercy and wisdom, has been cast into the front of the chignon. Avalokiteshvara is dressed in Buddhist ascetic tradition and is unclad save for a striped sarong etched with curling motifs, a jewelled waist belt, necklace, earrings, and a jewelled headband around the fringe.
The image is from the Srivijaya kingdom centred on south Sumatra and dates to the 7th-8th century. Srivijaya was an early Malay, pre-Islamic, Buddhist kingdom with strong trade links to the region. It was also a centre for missionary activity by monks and scholars from India who spread Buddhism and then Hinduism to the region.
Avalokiteshvara is the bodhisattva ('buddha-to-be') of infinite compassion and mercy. Avalokiteshvara exemplifies the bodhisattva's resolve to postpone his own buddhahood until he has helped every sentient being on earth achieve liberation from suffering and the process of death and rebirth. And as Ekadas Lokeswar, Avalokiteshvara descended to hell and converted the wicked and liberated them. However, he discovered that for every wicked person saved, another instantly took his place and his head then split eleven ways from grief and despair.
The image has an excellent brown-chocolate patina and a slightly pitted surface associated with age.
References
Guy, J., Lost Kingdoms: Hindu Buddhist Sculpture of Early Southeast Asia, Metropolitan Museum of Art, 2014.
Kempers, A.J.B., Ancient Indonesian Art, CPJ ven der Peet (Amsterdam), 1959.