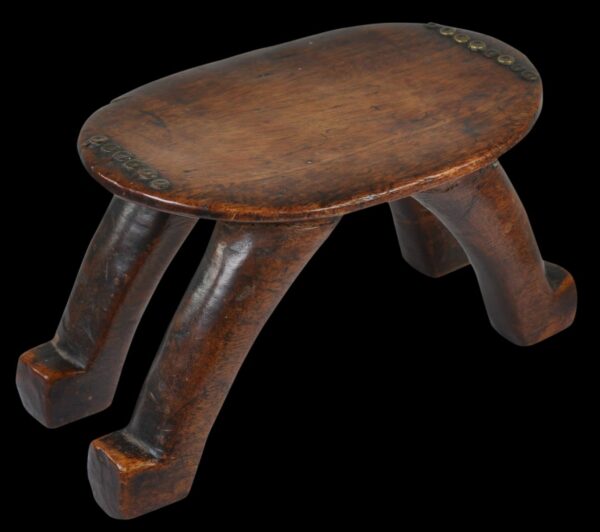 6650
Enquiry about object: 6650
Sudan Bongo Carved Wooden Stool or Headrest
Bongo People, South Sudan 19th-early 20th century
width: 23.2cm, height: 11.6cm, depth:12.1cm, weight: 535g
This small stool or perhaps headrest is from the Bongo people of South Sudan. It has a superb, lustrous patina and obvious age. It is carved from a light-coloured wood with an open grain. The top is of oval form from which four legs flare out, each of which is carved with a foot.
The top is decorated with a row of brass studs at each end. Each of this has much wear and patina.
The stool has been carved from a single piece of wood, but two legs on one side appear to have come away along the grain and have been reattached – one with native resin and the other with an old rivet or screw from beneath. Both these repairs probably happened close to the time that the stool was made.
Such unusually small stools were found in most Bongo households and were used by Bongo women only. Men apparently regarded sitting on such a stool as an effeminate luxury.
Stools attributed to the Bongo and of similar form are illustrated in Bassani (1994, p. 168) and Benitez Johannot et al (2003, p. 278). An almost identical stool was included in lot 97 of Sotheby's New York, 'Tribal Art' sale of October 31, 1994.
The Bongo live mostly in South Sudan's Tonj District. They were subsistence farmers. Their numbers were much depleted during the 19th century by Arab slave traders.
The headrest is in a stable condition, and again, has a splendid patina.
References
Bassani, E., et al, Sieges Africains, Reunion des Musees Nationaux, 1994.
Benitez Johannot, P., & J.P Barbier-Mueller (eds.), Sieges d'Afrique Noire du Musee Barbier-Mueller, 5 Continents/Musee Barbier-Mueller, 2003.