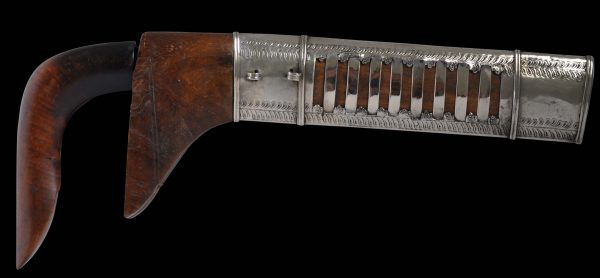 4818
Enquiry about object: 4818
Sulawesi Badek with Engraved Silver Mounts
Sulawesi, Indonesia early 20th century
length: 28.5cm, weight: 290g
Provenance
private collection, UK.
This unusually decorative badek or knife is from Sulawesi in eastern Indonesia, and most probably is from the Bugis people of southern Sulawesi. It comprises a watered or damascened iron single-edged blade with a straight back and which comes to a point.
The hilt of lustrous wood, comes out at an angle of almost 90 degrees.
The wooden scabbard is encased in hammered, high-grade silver sheet. It almost fully encloses the scabbard on the reverse, and on the front features open silver strapwork along with very finely engraved borders of petal motifs.
The badek was carried on the side of the body near the waist and largely was used for self-protection – for stabbing and slashing.
The example here is in fine condition without significant losses and with a fine patina.
References
van Zonneveld, A., Traditional Weapons of the Indonesian Archipelago, C. Zwartenkot Art Books, 2001.