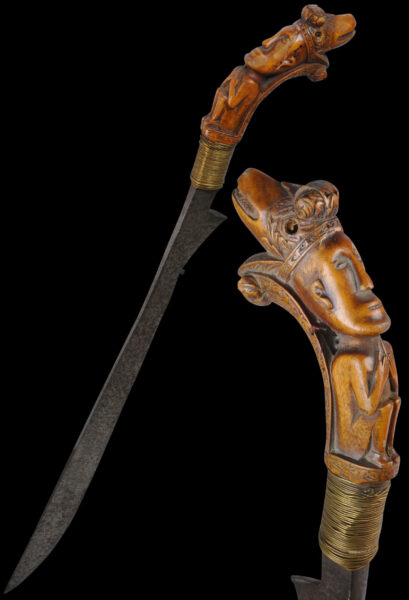 8561
Enquiry about object: 8561
Unusual Sumatran Sword with Carved Wooden Ancestor Hilt
North Sumatra, Indonesia, probably Batak or Nias 18th century & possibly earlier
overall length: 66.5cm, length of wooden hilt: 11cm
Provenance
overall length: 66cm, weight: 457g
This very unusual sword (there is no scabbard) comprises a single-edged steel blade that has a straight, thickened back and tapers to a point, a carved wooden hilt, and a a coil of brass wire beneath the hilt.
The blade is typically Batak, but the very unusual hilt comprises a mixture of elements including Batak, Nias and even Tanimbar (it has some resemblance to a Nias klewang tebal hujong). Most probably, it is an early Batak hilt, though nothing quite like it seems to have been published. It does have a splendid golden-honey patina however, and obvious significant age.
The hilt comprises a kneeling ancestor figure with arms folded to the chest. It has an elongated face, a prominent nose and ears and a moth slightly parted to reveal a row of fine teeth. The headdress comprises the blunt snout of some sort of mythical creature, with mouth parted to reveal a fierce set of teeth. The ancestor figure leans back against a a curved, curling rest that is finely carved with leafy scrollwork. A hole drilled through the 'headdress' probably was to allow the sword to be suspended when not in use.
The ivory Tanimbar ancestor figure attributed to the 17th century in the Frits Liefkes Collection and illustrated in Brinkgreve & Stuart-Fox (2013, p. 293) has some resemblance to the figure on the hilt here. Some Batak hilts have other elements seen in the figure here, as do some Nias hilts.
In terms of condition, the blade has old, faded rust marks, and the hilt looks as if it might have cracked apart and been put back together. Balancing this, is its extremely unusual nature and likely considerable age. The significant age possibly accounts for the lack of comparables and the difficulty in pinpointing its precise origin other than North Sumatra. Most extant examples are later and follow a later orthodoxy in terms of style.
References
Brinkgreve, F., & D.J. Stuart-Fox (eds), Living with Indonesian Art: The Frits Liefkes Collection, Rijksmuseum Volkenkunde, 2013.
Sibeth, A., The Batak: Peoples of Island Sumatra, Thames & Hudson, 1991.
Sibeth, A., & B. Carpenter, Batak Sculpture, Editions Didier Millet, 2007.
van Zonneveld, A., Traditional Weapons of the Indonesian Archipelago, C. Zwartenkot Art Books, 2001.