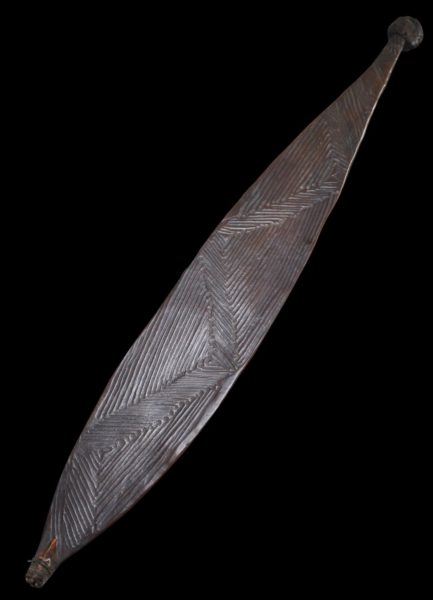 6529
Enquiry about object: 6529
Superb, Early Aboriginal Spear Thrower (Woomera)
Aboriginal People, Western Australia, probably the Western Kimberleys Region 19th century
height: 62.5cm, width: 8cm, weight: 288g
– scroll down to see further images –
This exceptional indigenous Australian or Aboriginal spear thrower or woomera has a superb, rich patina.
It is of elongated oval form. The front surface is incised with deep, zig-zag and parallel lines. The back surface is plain other than for wonderful chip marks caused by blows when the carver was making the item. The lower end has its original knob of tree gum, probably the black gum of the triodia plant. The other end has its original wooden peg lashed with sinew strips to the woomera.
A spear would be hooked onto the woomera and then 'launched' from the woomera which acted to extend the effective length of the arm so that the spear would be thrown with greater force.
The incised designs on the woomera possibly indicate the tribe or 'skin' of its owner.
Woomeras were used by men only – hunting for wallabies and kangaroos was very much considered 'men's business'.
Interestingly, the rocket launching range in South Australia was named Woomera after the Aboriginal device.
A similar example is illustrated in McCarthy (1957, p. 62) which is attributed to the Western Kimberleys.
The Kimberleys encompassed many different speech groups including the Garadjeri types, the Bardi type and the Ungarinyin type. These types were further broken down into smaller speech sub-groups such as the Djaberadjabera, the Nimanburu and the Worora.
The example here is in superb condition and has an exceptional, rich patina.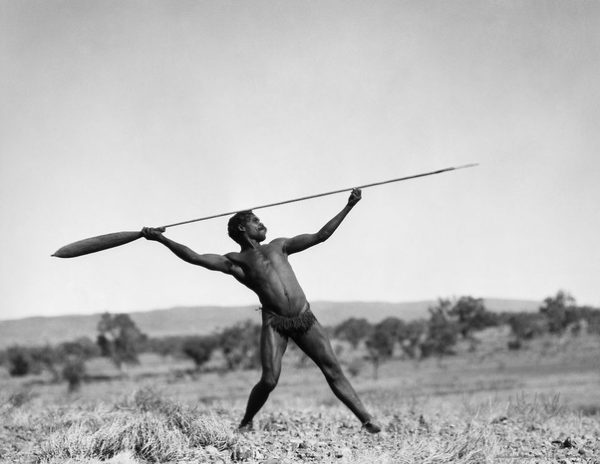 A Aboriginal man using a woomera to thrust a spear, Central Australia, circa 1920.
References
McCarthy, F.D., Australia's Aborigines: Their Life and Culture, Colorgravure, 1957.