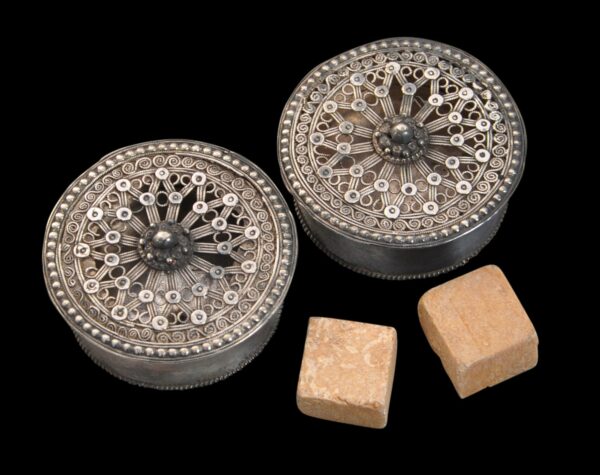 9038
Enquiry about object: 9038
Rare, Large Pair of Swahili Coast Silver Ear Plugs for Musk Perfume
Swahili Coast, probably Lamu & Pate Islands 19th-early 20th century
diameter: 6cm, thickness: 2.5cm, combined weight (of silver): 68g
This large and rare pair of box-like ear plugs or spools comprise the silver alloy bodies and fronts that are composed of complex, pierced filigree and granulation work. The backing plates are likely to be silvered sheet copper. The ear plugs are designed to hold large blocks of musk resin – indeed, they retain their original musk resin blocks.
Such ear spools were worn by Swahili women among the Swahili Coast – Lamu, Pate and probably Zanzibar islands.
The ear plugs would be worn in very stretched holes in the ear lobes. Usually, they would wear large ear plugs made from buffalo horn, but for special occasions, ear spools from silver and gold would be worn.
These examples were used to hold perfume – in this case musk – and would have emitted a heavy, heady smell each time the wearer moved her head.
Silver such as the spools here was made by silversmiths on Pate Island, just north of Lamu Island, on the coast of Kenya and more broadly on what is known as the Swahili coast.
A hand-drawn version of one of these plugs is illustrated in the cover of de Vere Allen (1971).
The people of the Swahili coast have been engaged with lively international trade since at least the 15th century. Trade took place with the African interior and with merchants from the middle east and India, particularly Gujarat.
The ear plugs here have obvious age and some minor losses to the filigree but this is compensated for by the extreme rarity.
References
Abungu, G. & L., Lamu: Kenya's Enchanted Island, Rizzoli, 2009.
Fisher, A., Africa Adorned, Collins Harvill, 1987.
Meier, P. & A. Pupura (eds.), World on the Horizon: Swahili Arts Across the Indian Ocean, Krannert Art Museum/Kinkead Pavilion, 2017.
de Vere Allen, J., Lamu, Kenya Museum Society, 1971.