This pair of woman's clogs (qabqab or nalin) is most probably from Ottoman Turkey or possibly from elsewhere in the Ottoman empire. They are very high – in fact they are among the tallest examples of this type of footwear that we have seen.
Each comprises two high platforms which flare to be quite wide towards the ground, a sole, and the original raised upper metallic strap. (The undersides of the straps have been reinforced relatively recently with what seems to be a vinyl material to protect and better support the straps.)
Each is carved from wood (possibly olive wood) and inset with numerous mother-of-pearl slithers arrayed in geometric patterns along with silver or pewter wire inlay. This decoration is across all exposed wooden surfaces. It is quite profuse (compare, for example with a lower pair in the British Museum – see the image below.)
Such clogs were designed for a wealthy woman so that when worn she would be elevated above a wet and dirty floor, often in the public bathhouse or hammam. Walking, however, required the assistance of an attendant, and the higher the clog, then the more attendants who would be needed, so particularly high clogs – such as those here, which must be among the highest available – became status symbols. Their Arabic name –qabqab – derives from the sound they made when they were being used.
The pair here is in very good condition. There are no losses to the mother-of-pearl inlay. As mentioned, the toe straps have later reinforcements.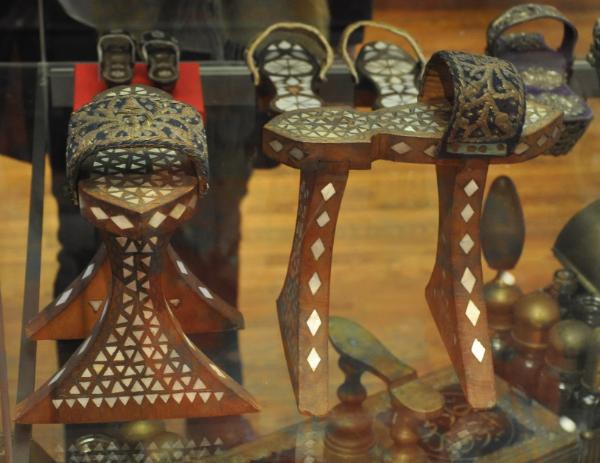 Above: A pair of smaller and less elaborate qabqab displayed in the British Museum.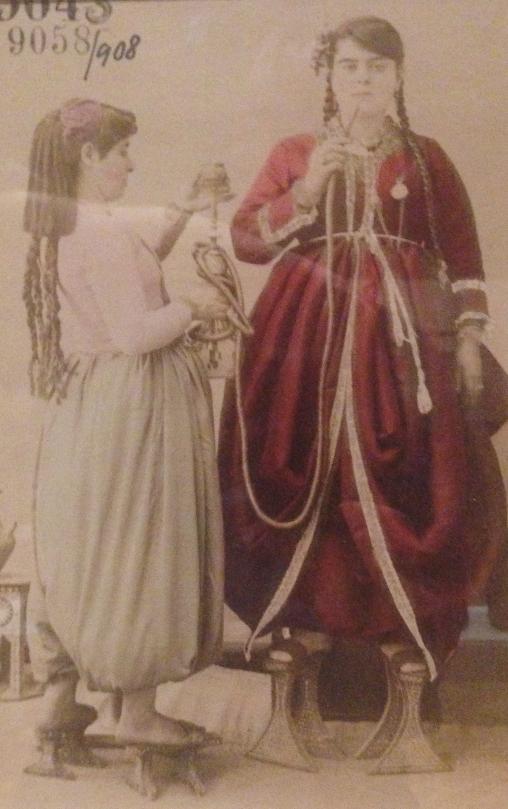 References
Koc, A., et al, Istanbul: The City and the Sultan, Nieuwe Kerk, 2007.