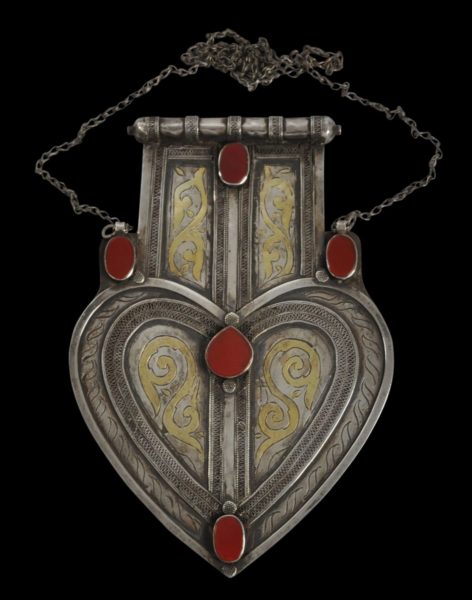 6202
Enquiry about object: 6202
Tekke Parcel-Gilt Ornament (Asyk) inset with Carnelians
Tekke People, Southern Turkmenistan & possibly Afghanistan 19th century
height: 16.2cm, width: 11.2cm, weight: 119g
This heart-shaped  ornament was worn by a Tekke woman in what is now Turkmenistan in Central Asia, and possibly Afghanistan. The spear-headed shape served partly as a protective or talismanic device designed to repel the evil eye. Typically they were worn on the back, rather than the front.
It is of solid silver that has been engraved and partly fire gilded (or gold plated). It has been decorated with exceptionally fine bands of applied wire work, and has also been inset with five red flat carnelian stones in box settings. The top has an applied silver tube decorated with bands of applied silver filigree wire.
The fire gilding that has been used is characteristic of Tekke jewellery. The process involved the application of an amalgam of mercury and gold to the surface of the silver. Heating causes the mercury to evaporate leaving a gold layer fixed to the surface. The process was extremely dangerous on account of the mercury fumes.
Carnelian stones were believed to protect the wearer against miscarriage and disease. Red itself was associated with happiness and fertility. Carnelians also have a special place in Islam – the Prophet Mohamed is believed to have worn a silver ring mounted with a carnelian stone.
The pendant has an old attached silver chain to permit wearing.
It is in excellent condition with a wonderful patina and clear age. All the stones are original.
References
van Cutsem, A., A World of Head Ornaments: Africa, Asia Oceania, America, Skira, 2005.
Ghose, M. (ed.), Vanishing Beauty: Asian Jewelry and Ritual Objects from the Barbara and David Kipper Collection, Art Institute of Chicago, 2016.
Hoek, C., et al, Ethnic Jewellery: From Africa, Asia and Pacific Islands, Pepin Press, 2004.
Seiwert, W.D., Jewellery from the Orient: Treasures from the Bir Collection, Arnoldsche Art Publishers, 2009.