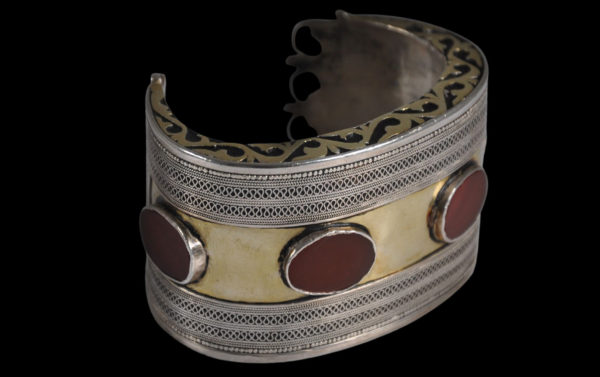 4837
Enquiry about object: 4837
Tekke Fire-Gilded Gilt Silver Cuff Bracelet
Tekke people, Central Asia, including Afghanistan 19th-20th century
external width across: 7.2cm, internal width across: 5.7cm, height: 4.3cm, weight: 164g
This fine 'C'-form bracelet is decorated with a central panel that has been mercury fire gilded and set with four oval red glass plaques. The borders are of applied silver wire work. The edges of the bracelet are striking and feature attractive pierced scrollwork. They too are gilded.
Women in the nomadic Tekke (also spelt Teke) communities of what is today Turkmenistan often wore heavy, conspicuous jewellery. Girls were provided with such pieces on marriage as part of their dowry and the pieces were added to as the couple grew more affluent. This cuff bracelet is an example of such jewellery.
The red glass is intended to emulate carnelian stones which were believed to protect the wearer against miscarriage and disease. Red itself was associated with happiness and fertility. Carnelians also have a special place in Islam – the Prophet Mohamed is believed to have worn a silver ring mounted with a carnelian stone.
The fire gilding that has been used in the bracelet is characteristic of Tekke jewellery. The process involved the application of an amalgam of mercury and gold to the surface of the silver. Heating causes the mercury to evaporate leaving a gold layer fixed to the surface. The process was extremely dangerous on account of the mercury fumes.
Similar examples are illustrated in Kalter (1984, p. 104) and van Cutsem (2002, p. 150).
The example here is in fine condition and has obvious age.
References
van Cutsem, A., A World of Bracelets: Africa, Asia, Oceania, America, Skira, 2002.
Geoffroy-Schneiter, B., Asian Jewellery: Ethnic Rings, Bracelets, Necklaces, Earrings, Belts, Head Ornaments, Skira, 2011.
Kalter, J., The Arts and Crafts of Turkestan, Thames & Hudson, 1984.
Seiwert, W.D., Jewellery from the Orient: Treasures from the Bir Collection, Arnoldsche Art Publishers, 2009.