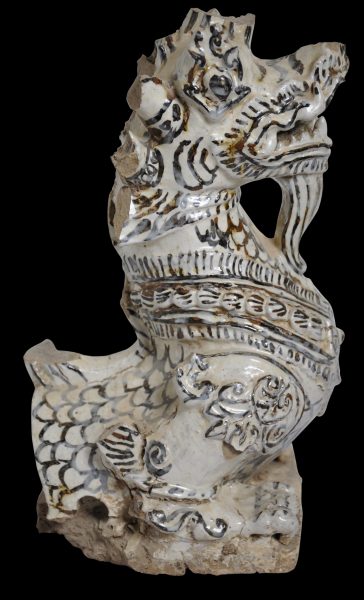 4684
Enquiry about object: 4684
Terracotta Makara Roof Tile Finial Fragment
Thailand Sukhothai Period, 14th-15th century
height: 32cm, length: 18cm, width: width: 15.4cm
Provenance
private collection, UK
This underglaze-black, hollow stoneware roof tile fragment is in the form of a makara sitting up erect on its haunches.
Ordination halls (ubosot) and assembly halls (wihan) generally were constructed of wood during the Sukhothai period but with glazed terracotta or stoneware elements such as the example here. As these buildings deteriorated or were replaced, the terracotta ornaments survived and thus became available.
Most probably it was made at the kilns in Sukhothai or Si Satchanalai. (The two sites competed with one another but the Sukhothai kilns commenced operations slightly after those at Si Satchanalai.
It is sculptural and free-standing. The makara has a row of pointy teeth; a beard that adjoins the chest; a body decorated with scales and cross-hatching; a neck decorated in relief and with underglaze decoration with floral ribbons and a large floral medallion; and large feet with clearly defined claws.
Several horns are broken away which is typical of these unless they have been restored, as is a crest which would have decorated the back of the head and neck. The condition is otherwise stable.
See Brown (2009, p. 59) for a similar example. Related examples also are illustrated in Rooney (2013) and in Richards (1995, p. 69).
Overall, the example here is neat, compact and sculptural.
References
Brown, R., The Ceramics of South-East Asia: Their Dating and Identification, second edition, Art Media Resources 1988.
Brown, R., Southeast Asian Ceramics Museum, Bangkok University, Bangkok University Press, 2009.
Guy, J., Thai Ceramics: The James and Elaine Connell Collection, Asian Art Museum of San Francisco/Oxford University Press, 1993.
Richards, D., South-East Asian Ceramics: Thai, Vietnamese, and Khmer – From the Collection of the Art Gallery of South Australia, Oxford University Press, 1995.
Rooney, D., Ceramics of Seduction: Glazed Wares from Southeast Asia, River Books, 2013.