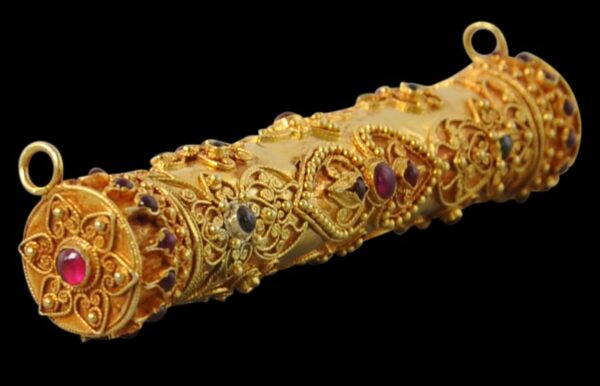 8900
Enquiry about object: 8900
Thai Ayutthaya Gold Amulet Holder set with Rubies & Emeralds (Takrut)
Ayutthaya, Thailand 18th century or earlier
length: 8.5cm, depth: 1.8cm, weight: 50g
This splendid, long, cylindrical amulet holder was made to be hung from the neck. It is of high-grade gold and is decorated with fine gold granulation and filigree arrayed in quatrefoil flower-heads and scrolling foliage inset with ruby and emerald cabochons in box settings. Both ends are decorated with a filigree flower motif set with a central ruby. One end of the box is a cover that slides off to reveal the interior compartment in which protective Buddhist relics or scriptures were kept.
The applied gold filigree work is very much in Ayutthaya style as is the use of rubies and other precious stones.
Gold was used widely in Ayutthaya. Massive Buddha images of solid gold were constructed in the city, the city's aristocrats wore copious gold jewellery, important letters were inscribed on sheets of solid gold and so on (Garnier, 2004, p. 46).
Ayutthaya was sacked by the Burmese in 1767 who captured most of the city's artisans including its gold and silversmiths and took them back to Burma where they were resettled and required to work for the Burmese. This loss of indigenous artisans seems to have induced a very clear structural break in the types of gold and silverwork that was undertaken in Thailand. The indigenous artisans now in Burma were soon replaced by Chinese gold and silversmiths who arrived from China. They introduced their own styles, which took on local characteristics with time, but which nevertheless retained Chinese aesthetic underpinnings.
Numerous examples of gold ornaments and utensils decorated in the style of the amulet holder here have been found hidden in temple crypts in Ayutthaya. The most notable find was a horde stashed in the crypt of the main stupa of Wat Rachaburana in Ayutthaya. The find dated to the 15th century.
The amulet holder here is in excellent condition. All the stones are present. There is some minor denting to the gold on account of its purity and thus softness.
References
Garnier, D., Ayutthaya: Venice of the East, River Books, 2004.
Songsri Prapatthing (ed.), Thai Minor Arts, The Fine Arts Department, Thailand, 1993.