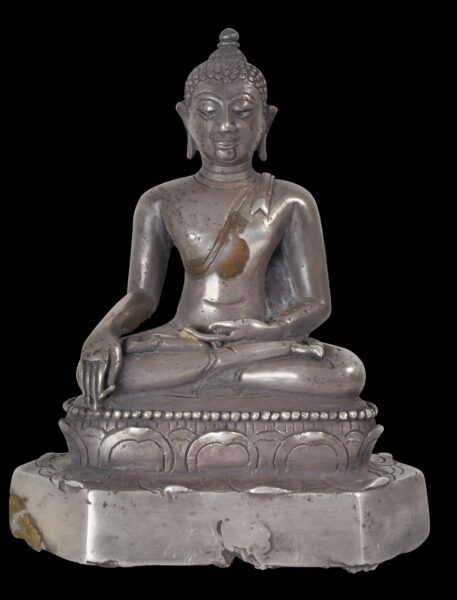 6615
Enquiry about object: 6615
Thai White Brass Buddha
Thailand circa 18th century
height: 12.9cm, width: 10.9cm, depth: 6.7cm, weight: 675g
Provenance
private collection, UK.
This image cast in white brass shows the Buddha sitting cross-legged, and holding his right hand downward in the earth-touching gesture (bhumisparsha mudra).
The Buddha is shown sitting on a raised lotus petal throne atop a six-sided platform.
A similar example in the State Hermitage Museum in St Petersburg is illustrated in State Hermitage Museum (1997, p. 72), and that example is given a dating of 'late 15th century?'. This seems ambitious and we have opted for a later dating.
The example here has various casting faults to the base. There is also some discolouration to the chest. Otherwise it is an unusual example.
References
State Hermitage Museum, Siamese Art of the 14th-19th Centuries in the Hermitage, Slavia Art Books, 1997.