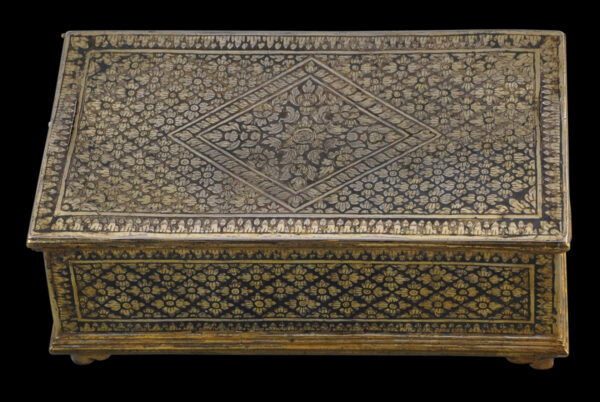 7728
Enquiry about object: 7728
Thai Silver-Gilt Niello Betel Box
Thailand early 19th century
height: 6.1cm, width: 15.2cm, depth: 8.6cm, weight: 317g
Provenance
private collection, London
This rectangular box, most probably designed to hold betel nut, is of high-grade silver sheet, decorated with darkened amalgam niello work, and then gilded (gold plated).
It stands on four feet, and gilded, cast silver handles on each side. The cover or lid is hinged.
The cover and sides are all decorated with what is probably jasmine blossom motifs (lai dok mali) in trellis form.  The cover also has a central lozenge cartouche. The overall composition of the decoration seems Islamic inspired and the cover itself is reminiscent of the scheme of a Persian carpet. Indeed, Bangkok and the old capital of Ayutthaya have been home to significant Persian commercial minority, and one of the most powerful Thai-Persian families, the Bunag family, supplied many ministers and advisors to the royal Siamese court.
The box has obvious age. It was acquired in the UK and most probably came to the UK during colonial times via northern Malaya (Malaysia). Indeed, it might have been made for export to the Malay market in the northern Malay Peninsula.
The box is not in perfect condition. There are losses to the dark niello enamelling, and the lid also has two old splits in it. On the other hand, the box does seem of an earlier type in terms of proportions and decoration than is usually encountered.
References
Bromberg, P., Thai Silver and Nielloware, River Books, 2019.
Naengnoi Punjabhan, Silverware in Thailand, Rerngrom Publishing, 1991.