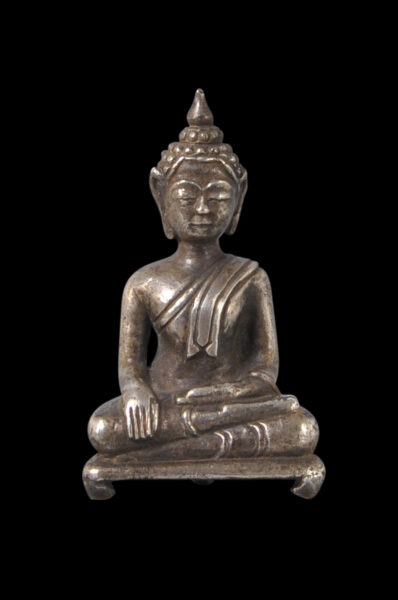 6626
Enquiry about object: 6626
Thai Solid-Cast Silver Buddha
Thailand 18th-19th century
height: 5.9cm, width: 3.6cm, depth: 1.9cm, weight: 89g
Provenance
private collection, UK.
This cast and chiselled Buddha image is of solid silver. It shows the Buddha seated in the 'calling-the-earth-to-witness' pose (bhumisparsha mudra). It is well-proportioned with a finely detailed face.
The right shoulder is covered and the left is left exposed by the robes.  The robe's sash reaches the torso. The hair of the Buddha is in neat 'peppercorn' rows with a crenulated hairline, and the head is surmounted by a tiered, conical usnisha. The ears are elongated demonstrating the Buddha's princely origins.
The Buddha sits on a low, neat dais that follows the outline of his body. It has three small feet.
The 'calling-the-earth-to-witness' pose, refers to the occasion when the Buddha, seated in meditation under the Bodhi tree on the evening before his enlightenment, is challenged by the demon Mara to prove that he had given alms. The Buddha touched the ground with his right hand and asked the earth to bear witness to his past good deeds (Fraser-Lu & Stadtner, 2015, p. 152).
The surface of the image has good wear and micro-abrasions visible under magnification, all consistent with significant age.
References
Fraser-Lu, S., & D.M. Stadtner, Buddhist Art of Myanmar, Asia Society Museum, 2015.
Somkiart Lopetcharat, Lopburi and Thavaravadi Sculptures in Thailand, Siam International Book Company, 2015.
Sukhasvasti, S., South and Southeast Asian Sculpture from a Private Collection, Rian Boon Press, 2003.
Tan, H. et al., Enlightened Ways: The Many Streams of Buddhist Art in Thailand, Asian Civilisations Museum, 2012.