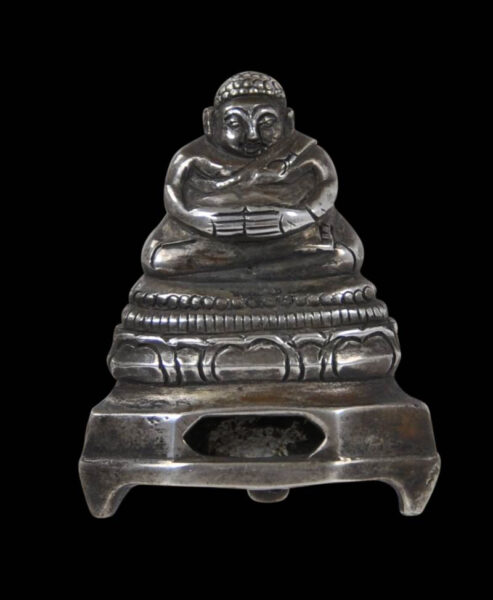 6624
Enquiry about object: 6624
Thai Solid-Silver Image of Phra Sangkajai
Thailand 19th century
height: 4.1cm, width: 3.4cm, depth: 1.8cm, weight: 37g
Provenance
private collection, UK.
This small image of Phra Sangkajai has been cast and then engraved from solid silver. He is rotund, and with rounded shoulders. He sits with folded arms and crossed legs atop a tiered lotus petal platform.
The image is heavy in the hand, and has thickly-cast walls.
Phra Sangkajai is a Buddhist disciple, renowned for his gifts in teaching the dharma. He was introduced to Southeast Asian Buddhism from China, where he is known as Budai. Generally he is thought to be an incarnation of Maitreya, the Future Buddha. In Thailand, as in China, Phra Sangkajai is associated with prosperity and happiness.
The image is in fine condition. Its contours have been softened over the years by handling. It sits solidly without rocking.