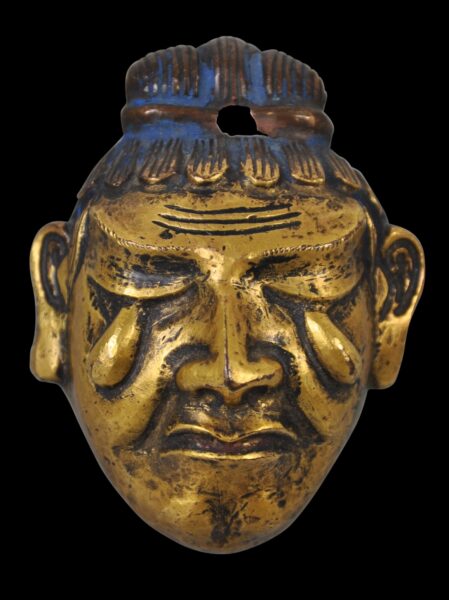 9128
Enquiry about object: 9128
Tibetan Tantric Gilded Copper Severed Head
Tibet circa 17th century
length: 7.5cm, width: 5.8cm, depth: approximately 3.8cm, weight: 49g
Provenance
Art market, Paris, France
This wonderful gilded copper head would have been part of a severed head mala (chinnamunda mala) worn by a large statue in a temple in Tibet, or possible was a decorative element on a ritual trisula khatvanga staff.
It is shown with the eyeballs dripping out of the eye sockets as a form of punishment and torture.
The ears and face are gilded and the hair which is finely delineated, pulled back off the face and piled on the top of the head, is coloured with black and blue pigment.
The interior is coloured with cinnabar red.
There is a hole in the headdress presumably allow suspension.
Usually malas or garlands of severed heads were worn by male deities and garlands of skulls were assigned to female deities. The hanging of such garlands from the neck was intended to symbolise purity of speech.
The head is wonderfully decorative. It is in fine condition with a splendid patina.
References
Beer, R., The Encyclopedia of Tibetan Symbols and Motifs, Serindia, 2004.
Henss, M., Buddhist Ritual Art of Tibet: A Handbook on Ceremonial Objects and Ritual Furnishings in the Tibetan Temple, Arnoldsche, 2020.