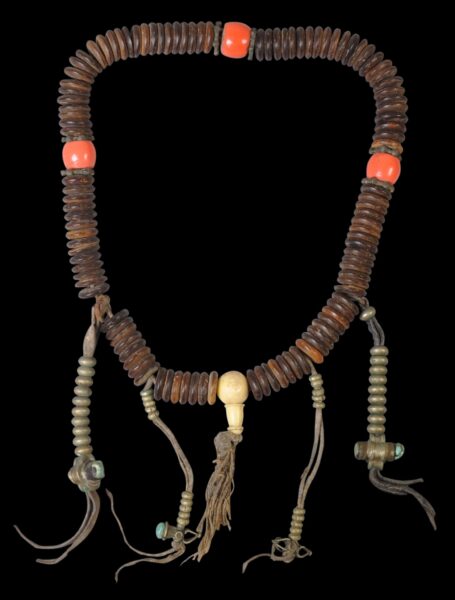 9044
Enquiry about object: 9044
Tibetan Buddhist Mala Rosary Beads
Tibet 18th-19th century
circumference: approximately 45cm, width of disks: 1.5cm, weight: 126g
Provenance
private collection, London
– scroll down to see further images –
This Tibetan Buddhist rosary (sin-'phen) is of fine quality and has good age and wear from use.
It comprises 124 disk shaped beads made from horn, plus three quite large spherical beads made from natural coral, four strings of silver-alloy counter beads, and a central marker bead of bone. Additionally, there are several metal spacer beads with serrated edges, plus two well-worn silver finial beads shaped as stylised dorjes inset on both sides with turquoise.
All beads are threaded onto leather straps.
Buddhist rosaries evolved from ancient Hindu-Indian mala prayer beads. In Tibet, they were used by both laymen and monks. Generally, they comprise 108 beads – sometimes more and sometimes less depending on the personal mantras followed by the user, plus others that served as counters or markers. The beads were used to count repetitions of prayers.
The set here is in a fine and stable condition. Each element is smooth from wear, and handling. This is a wonderful and deeply personal object.