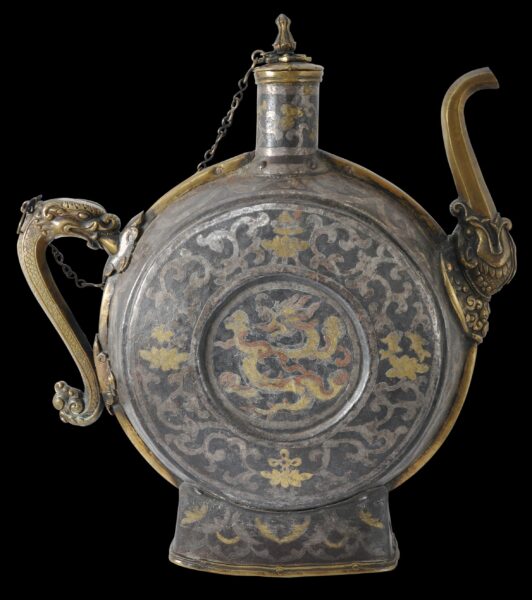 7267
Enquiry about object: 7267
Fine Tibetan Iron Beer (Chhaang) Flask Overlaid with Silver & Gold
Chamdo, Eastern Tibet circa 18th century
height: 37cm, width: 34cm, depth: approximately 10cm, weight: 2,422g
– scroll down to see further images –
This excellent iron flask is notable for the fine condition of its silver and gold decoration. Such a vessel was used by nomads to hold locally-produced beer known as chhaang. The form appears to be modelled after Chinese porcelain moon flasks.
They were made in Chamdo in Eastern Tibet, which was a famous metal working centre.
The sides are flat (with with a central indented roundel), originally to allow such a flask to be strapped to the side of a pack animal such as a horse or a yak.
It has brass mounts, and both sides are over-laid in gold and silver with a central dragon motifs surrounded by stylised, swirling clouds.
This decoration is achieved by lightly scoring the iron surface of the flask and then hammering on gold and silver, which are softer metals, onto the surface. (The process is known today as damascening, after the city of Damascus, which was once renowned for this technique.)
The brass spout comprises a long-snouted makara. The snout spout has five flattened sides. The 'S'-shaped handle is in the form of a Himalayan dragon. Both the spout and handle are in brass, as is an intricate stopper with an elegant, tall lotus bud-like finial. The stopper is attached to the flask by means of a chain.
The British Museum has a similar example that might well be from the same workshop, and which it attributes to the 17th century. Another example is in the Newark Museum and illustrated in Reynolds (1978, p. 52).
The flask is in excellent condition with a fine patina. The flask sits flatly and firmly. The gold and the silver damascene work is largely intact which makes this example finer than most.
References
Reynolds, V., Tibet: A Lost World: The Newark Museum Collection of Tibetan Art and Ethnology, The American Federation of Arts, 1978.