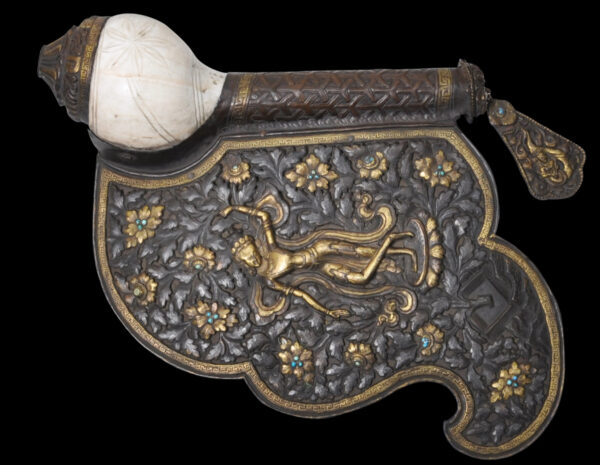 8425
Enquiry about object: 8425
Superb, Published Tibetan Temple Conch Shell Trumpet with Gilded Copper Mounts & Inset with Turquoise
Tibet circa 1800 or earlier
Length: 40cm, width: 30cm
Provenance
private collection, UK; Collection of Nicole Schindler, London (1970s); exhibited in the Tantra exhibition, Arts Council of Great Britain, London, 1971; and published in the exhibition catalogue.
– scroll down to see further images –
This actual conch trumpet was exhibited in London in 1971 at the Tantra exhibition, held by the Arts Council of Great Britain (item 545) and is published in the catalogue of the same name (see the final image below).
It comprises a conch or chank shell (Turbinella Pyrum) that has been mounted with large copper mounts including an especially large 'wing' that have been chased and luxuriantly repoussed in high relief with a central aspara figure surrounded by leaves and blooms. The aspara and the flowers have been parcel-gilded and each flower has been set with turquoise cabochons. Another gilded aspara figure decorates a pendant attached to the end of the trumpet. The work is almost certainly by a Nepalese craftsman.
The underside of the main copper 'wing' is decorated with a large 'Om' mantra symbol. Other mantra syllables are in gilded copper around the mouthpiece.
Conch trumpets such as these were used by monks in temples.
The trumpet conch has been given a tentative circa 1800 dating (both here and in the 1971 exhibition and catalogue) but it might be much earlier than circa 1800. A related example in the Chhatrapati Shivaji Maharaj Vastu Sangrahalaya (formerly the Prince of Wales Museum in Bombay/Mumbai) is illustrated in Desai (2002, p. 211) and is inscribed with a date that approximates to 1500.
Conch shells are important ritual objects in Tibetan Buddhism. They are used as ceremonial trumpets in prayer rituals, to summon monks to prayer, to summon spirits as well, and to invoke rain and water (Reynolds, 1978, p. 80.) Shanghai Museum (2001, p. 136) illustrates a conch shell trumpet carved with eight small Buddhas which is said to have been a gift from the Qianlong Emperor to the Dalai Lama.
The example here is in fine condition. It's significant age is obvious. It is rare to have a Tibetan conch trumpet with such sound provenance.
References
Desai, K., Jewels on the Crescent: Masterpieces of Chhatrapati Shivaji Maharaj Vastu Sangrahalaya, Mapin, 2002.
Henss, M., Buddhist Ritual Art of Tibet: A Handbook on Ceremonial Objects and Ritual Furnishings in the Tibetan Temple, Arnoldsche, 2020.
Lama, M.N. Ritual Objects & Deities: An Iconography on Buddhism & Hinduism, Lama Art, 2003.
Rawson, P., Tantra, Arts Council of Great Britain, 1971.
Reynolds, V., Tibet: A Lost World: The Newark Museum Collection of Tibetan Art and Ethnology, The American Federation of Arts, 1978.
Shanghai Museum, Treasures from Snow Mountains: Gems of Tibetan Cultural Relics, Shanghai Museum, 2001.