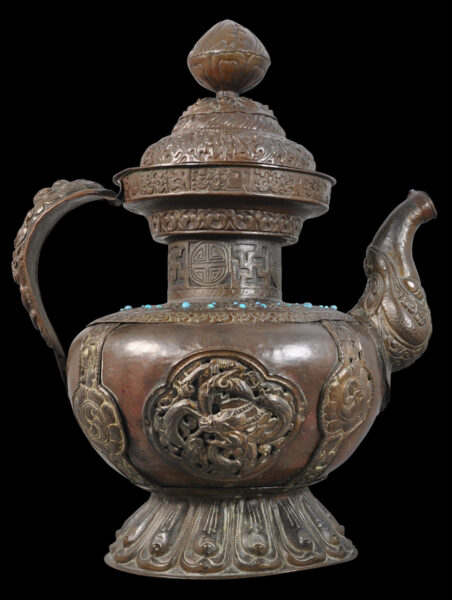 7039
Enquiry about object: 7039
Large, Tibetan Copper Teapot
Tibet or Himalayan Region 19th century
height: approximately 46.5cm, weight: 2,913g
– scroll down to see further images –
This large copper teapot has a splendid, sculptural shape and a rich, chocolate patina. It has pierced, applied plaques the embossed shoulder beneath the neck has been embellished with many turquoise-coloured glass semi-spherical cabochons (minor losses).
The bulbous body of beaten copper is overlaid with pierced copper plaques of dragons and floral scrolls. The handle is decorated with a composite, mythical Himalayan creature that seems to incorporate a snow lion.
A wide border of  lotus petals comprises the foot, a design that is mirrored in the top of the lid, which is surmounted by a large bud-like finial. The neck is decorated with reverse swastika motifs and longevity motifs.
The spout emerges from the mouth of a makara. It is topped with a small turquoise cabochon in a box setting.
Probably, the teapot, used to serve yak butter tea, is from Tibet but it might also be from adjacent regions with Tibetan and Tibetan-influenced populations such as Ladakh and Nepal.
Overall, this is a wonderful, and very decorative item.
References
Reynolds, V., Tibet: A Lost World: The Newark Museum Collection of Tibetan Art and Ethnology, The American Federation of Arts, 1978.