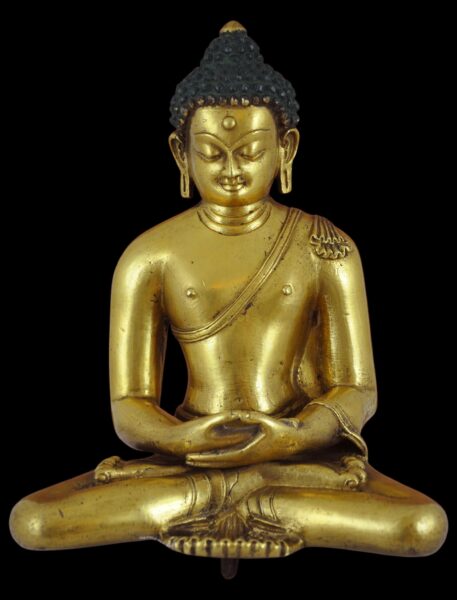 9199
Enquiry about object: 9199
Tibetan Gilded Bronze Buddha
Tibet 16th-17th century
height: 23cm, width: 17cm, depth: 11cm, weight: 1,850g
Provenance
private collection, UK
This beautiful image of the Buddha, from 16th-17th century Tibet, is of gilded bronze. The image sits cross legged and in the vajrasana posture, with hands in the meditative dhyani mudra position.
The Buddha wears a tightly-fitting, diaphanous sanghati robe with prominent hems, and a beautifully bunched, pleated sash over the left shoulder. The rounded face has full, pursed lips; a triangular nose; slender, downcast eyes; and finely incised, arched eyebrows. There are three prominent neck folds or creases. The head is surmounted by a ushnisha topped by a gilded cintamani finial. There is a prominent, raised, circular urna on the forehead.
The ears are elongated, and so are those of a prince. The earlobes are rectangular in keeping with 16th century Tibetan sculptural depictions of the Buddha.
The hair, arrayed in neat 'peppercorn' rows retains, remnants of blue pigmentation.
The image probably would have sat on a separately cast throne. The base of the image is fitted with three loops to secure it to a base.
Some aspects of the form follow that of Newar Buddhas of Nepal – the well-modelled torso; the tightly fitting sanghati; the finely articulated fingers, toes and nails; the shape of the ear lobes; the webbed hands; and the relatively broad forehead.
Overall, this is a highly decorative image. There are almost no losses to the gilding which has developed a rich, soft hue over time.
References
Pal, P., Art from the Himalayas & China: Asian Art at the Norton Simon Museum, Yale University Press, 2003.