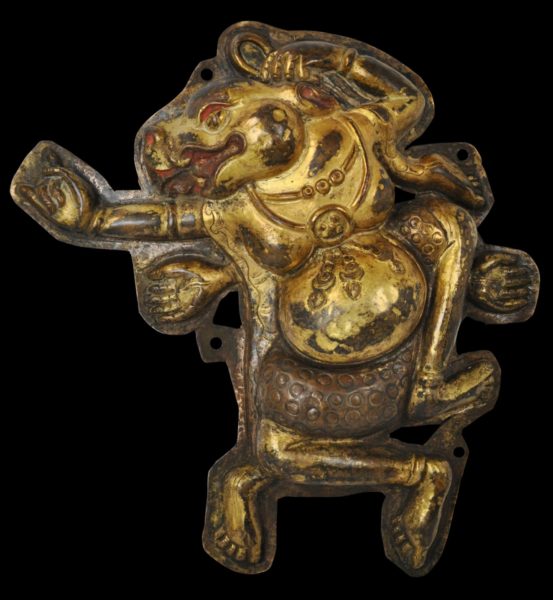 6250
Enquiry about object: 6250
Tibetan Gilded Copper Image Possibly of Vajra Vahari
Central Tibet circa 17th-18th century
height: 23.5cm, width: 22.8cm, weight:216g
Provenance
private collection, London
This plaque of hammered, repoussed and chased copper that has been gilded (gold plated) is possibly of the deity Vajra Vahari. The deity is shown with a boar or sow's head, three visible legs and feet, four arms, a pot belly and several necklaces. The figure is shown with teeth and fangs and in dance form.
Vajra Vahari is an unusual subject for such a plaque. The deity is the Tibetan Buddhist equivalent of Varaha, the boar-headed avatar of Vishnu, and in Tibet is the most common form of the  goddess deity Vajrayogini. Vajra Vahari  has a fierce character and is invoked to destroy enemies.
The plaque would have adorned the wall of a temple of monastery or similar.
The plaque is in fine condition. It has wear to the gilding over the surfaces that are in higher relief, as should be expected. The figure also retains traces of red sindoor powder used for blessing such images.