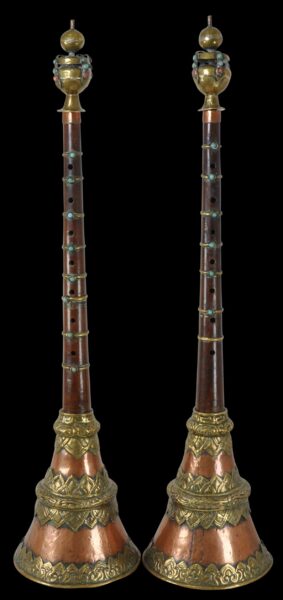 8547
Enquiry about object: 8547
Rare Pair of Tibetan Ritual Horns (Gyaling) inset with Coral & Turquoise
Tibet 18th-19th century
length: approximately 60cm, width: approximately 14.5cm, combined weight: 1,078g
Provenance
private collection, UK.
– scroll down to see further images –
Oboe-like horns such as these were played in Tibet by monks in monasteries and temples during Buddhist ceremonies and at religious festivals such as the naming of a Living Buddha, and the consecration of important Buddhist statues. They were blown to invite deities or spirits to the ritual or to welcome high-ranking guests. They were always used in pairs but it is rare to find a surviving pair.  They were known as gyaling or suona.
The gilded-copper mouthpiece of each is in the form of a kalasha or longevity vase set with turquoise and coral cabochons. The mouthpieces of better examples tended to be decorated with kalasha vase finials.
The hollow shaft of each is of hollowed wood, each with seven wind holes (all gyaling if traditional and correct have precisely seven holes), and decorated with gilded brass bands inset with coral and turquoise cabochons. The funnel or 'bell' of each is of copper with chased brass mounts.
The pair has obvious age, a clear patina, and is sculptural together. One of the horns is missing one of the rings on the shaft.
References
Ghose, M. (ed.), Vanishing Beauty: Asian Jewelry and Ritual Objects from the Barbara and David Kipper Collection, Art Institute of Chicago, 2016.
Henss, M., Buddhist Ritual Art of Tibet: A Handbook on Ceremonial Objects and Ritual Furnishings in the Tibetan Temple, Arnoldsche, 2020.
Shanghai Museum, Treasures from Snow Mountains: Gems of Tibetan Cultural Relics, Shanghai Museum, 2001.