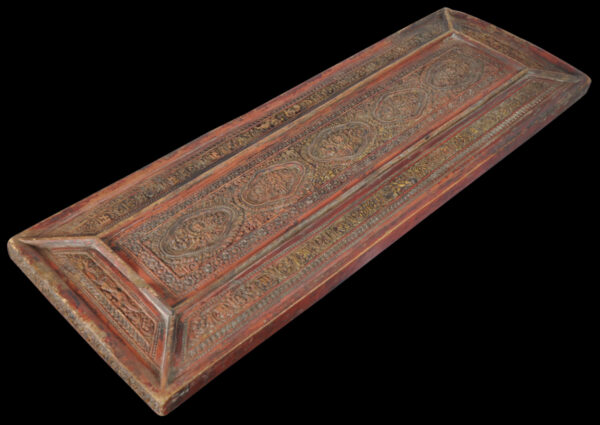 7189
Enquiry about object: 7189
Tibetan Carved Wooden Manuscript Cover
Tibet 15th-16th century
length: 72.5cm, width: 24cm, depth: 3.6cm, weight: 2,849g
This Tibetan manuscript or book cover has been heavily carved from a single piece of wood. It has been further decorated with red and gold pigments.
The slightly raised central panel comprises five stylised cloud cartouches each with a central lantsa symbol surrounded by tight scrollwork. Each of the cartouches is then surrounded by dense scrollwork and separated by Himalayan Buddhistic motifs. This is all within repeated floral borders. The outer borders contain more lantsa letter and other symbols – including a pair of geese with necks entwined, all amid dense scrollwork.
One of the short edges – the edge that would have faced outwards on a shelf in a monastic library – is carved with a central kirtimukha motif and with stylised scrolling foliage on either side.
The reverse is plain and unadorned.
Such a cover would have been used in a monastery to encase a folding manuscript written on paper. The manuscript and covers would have then been wrapped in cloth.
Wooden manuscript covers in Tibet tended to be decorated elaborately, to reflect the importance of the texts they protected. Wood was very scarce on the Tibet Plateau and so was an expensive commodity. Again, this suggests the reverence with which the texts were accorded.
The cover shows good signs of use. There is minor fritting to the edges, and one old chip to one of the raised ridges that separates the fields of carving.
The cover was acquired in the UK. Tibetan items often found their way to colonial India, brought by Tibetan and Nepalese curio sellers. British colonial administrators would buy them and bring them back to Britain on completion of their tour of duty.
References
Debreczeny, C., et al, Rubin Museum of Art, Collection Highlights: The Rubin Museum of Art, New York, Rubin Museum, 2014.
Heller, A., Tibetan Art: Tracing the Development of Spiritual Ideals and Art in Tibet, 600-2000AD, Jaca Books, 2000.
Selig Brown, K.H., Protecting Wisdom: Tibetan Book Covers from the MacLean Collection, Prestel, 2012.