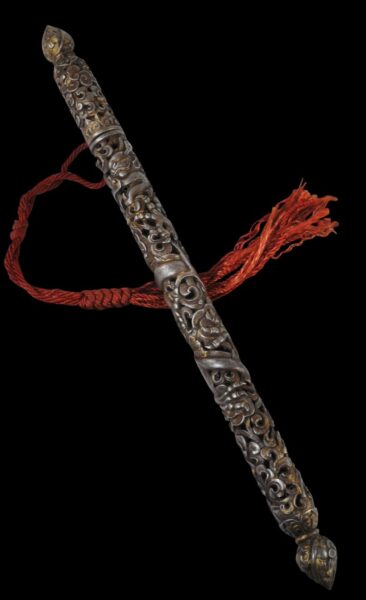 6675
Enquiry about object: 6675
Tibetan Pierced, Chiselled & Gilded Iron Pen Case
Derge, Eastern Tibet circa 18th century
length: 34.8cm, weight: 334g
Provenance
private collection, UK
This heavy iron pen case from Derge in Eastern Tibet is spectacular for the quality of its chiselling and piercing work. Long, thin and tubular in form, it is decorated with a long, sinewy dragon, the body of which twists down, around the length of the pen case, amid typically Himalayan floral and leafy scrollwork that is is also suggestive of stylised cloud motifs.
The decoration is profuse, elaborately pierced and in high relief.
The pen case retains traces of parcel gilding or gold overlay.
The case has a pull-off lid at one end, and this and the body have lugs through which a red silk cord has been threaded to keep the two parts together.
Each end of the pen case has been cast with a lotus bud finial which has been chiselled with leafy scrollwork.
The example here has a fine patina suggestive of age and is free from loss or damage.
References
Reynolds, V. et al, From the Sacred Realm: Treasures of Tibetan Art from the Newark Museum, Prestel, 1999.