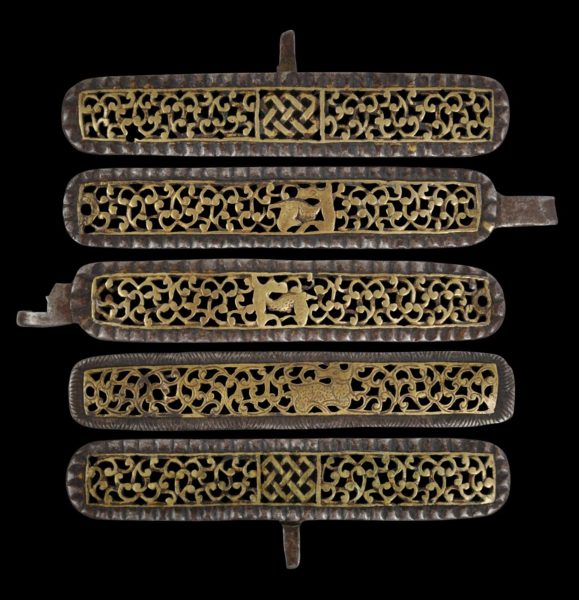 6284
Enquiry about object: 6284
Five Tibetan Gilded, Pierced Iron Belt Elements
Tibet 17th-18th century
each is approx. 13cm long and 2.3cm wide
Provenance
private collection, London.
These five elongated, rectangular belt fittings are of chiselled and pierced iron, the central panels of which have been gilded (gold plated). Four are of the same series and one is from another set.
Each shows pierced, leafy scrollwork. Three are decorated with a stylised Himalayan deer motif and two are decorated with a central 'endless knot' motif.
Several have the remnants of hooks onto which knives and utensils would have been suspended.
Leather belts with belt fittings such as these were worn by high officials in Tibet but also in other Himalayan states such as Bhutan. See Daalder (2009, p. 307) for related examples.
Similar fittings were also used to decorate leather horse bridles.
The age of the five panels is very clear. Their contours have been rounded and softened by age and use. One has a small loss to the fretwork in the front panel but otherwise, each of the fretwork panels is complete.
References
Daalder, T., Ethnic Jewellery and Adornment: Australia, Oceania, Asia, Africa, Ethnic Art Press/Macmillan, 2009.
LaRocca, D.J., Warriors of the Himalayas: Rediscovering the Arms and Armor of Tibet, Metropolitan Museum of Art, 2006.