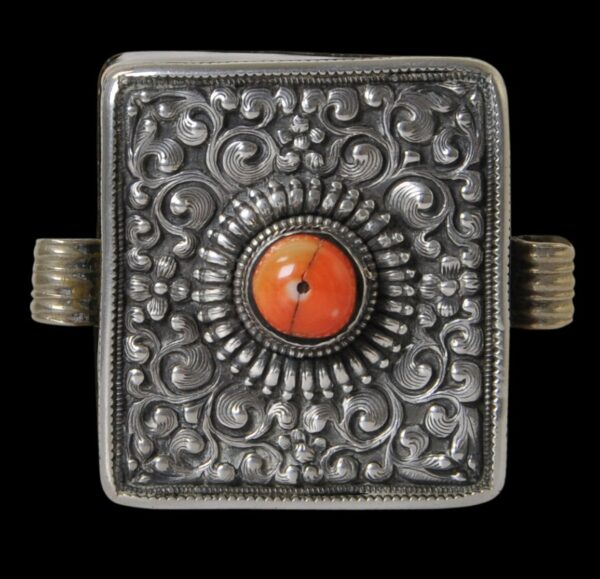 8857
Enquiry about object: 8857
Tibetan Silver & Coral Amulet Box (Ga'u)
Tibet 19th century
width: 7cm, length: 6cm, depth (including coral): 4cm, weight: 104g
This small, beautiful Tibetan amulet box comprises a silver front that is decorated with a central, large, coral cabochon in a high box setting, surrounded by silver finely chased with scrollwork, and lotus petals around the central coral.
The sides of the box, and the backing plate are of hammered brass. Gadrooned silver tubes are attached to each side. Leather strap would have been threaded through each of these to attach the box to the wearer's clothing or to allow it to be worn suspended from the neck.
Ga'u boxes were worn by men and women in Tibet and in other parts of the Buddhist Himalayas as protective amulet cases. Usually, they were worn suspended from the neck. They would contain a variety of precious and protective items such as parchment inscribed with mantras and cloth perhaps from the robe of an esteemed monk.
The example here has much wear and patina from age and ritual use. The contours have been beautifully worn from handling and use.
References
Clarke, J., Jewellery of Tibet and the Himalayas, V&A Publications, 2004.