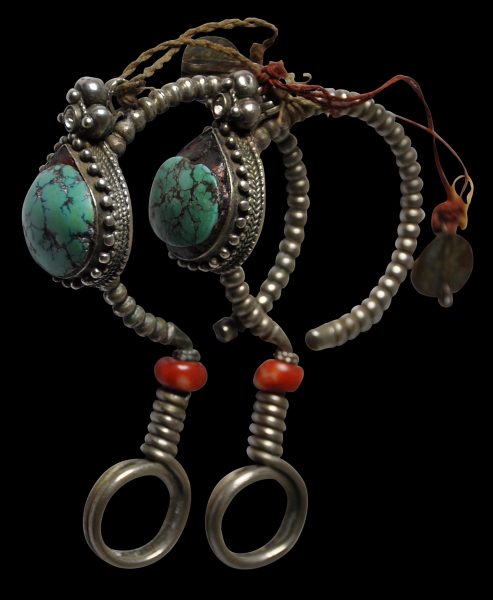 2637
Enquiry about object: 2637
Tibetan Silver, Coral & Turquoise Earrings (Along)
Tibet late 19th century-early 20th century
height: 8.5cm, combined weight: 70g
This pair of earrings would have been worn by a woman (men wore similar earrings but only a single earring; never as pairs). Each comprises a silver loop of thick, 'pearled' wire with a pear-shaped bezel inset with a cabochon turquoise and surrounded by granulation work. The bezel is surmounted by a more prominent granulation work arrayed in a triangle and inset with a faceted crystal. The lower part of the earring ends in a twist decorated by a red coral bead and then double silver wire loop.
Importantly and somewhat rarely both earrings retain their original ear supports – cotton strands attached to a small silver ring behind the bezel and to a small white metal fastener at the other end that allowed the weight of the earrings to be taken by the top of the ear, so that the weight was not borne by the lobe alone.
Both earrings are in excellent condition without losses or repairs. They have a fine patina and obvious age.
References
Clarke, J., Jewellery of Tibet and the Himalayas, V&A Publications, 2004. :UK art market