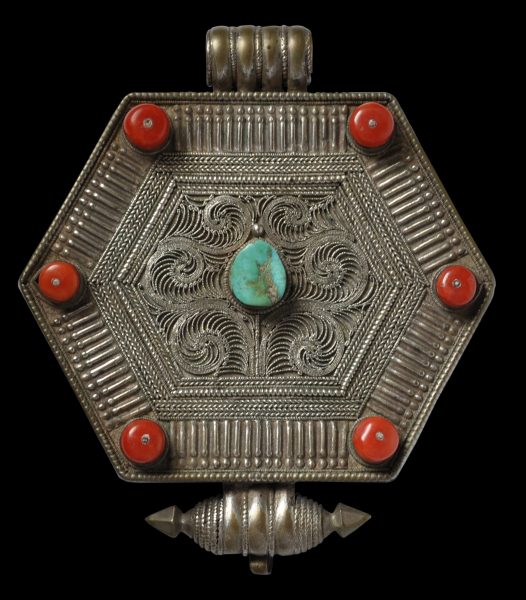 3846
Enquiry about object: 3846
Tibetan Silver Filigree Ga'u Box with Turquoise & Coral
Western Tibet late 19th century
height: 10.4cm, width: 9cm, weight: 69g
This six-sided ga'u box, typically worn by a woman, comprises a silver alloy front and sides, and a sheet iron backing plate.
The front is decorated with silver filigree work and other applique wire work, within a border of chased ribbing or petal elements. It is inset with a central turquoise cabochon and six coral cabochons.
Such a ga'u served as a protective amulet box and would have been worn suspended from the neck. The top of the box has a hollow tube through which a chain would have been threaded. The age of this box is testified to by the very substantial wear to this tube.
The bottom of the box is decorated with a silver thunderbolt (dorje) motif.
The item is in fine condition. There are no losses or apparent replacements.
References
Clarke, J., Jewellery of Tibet and the Himalayas, V&A Publications, 2004.