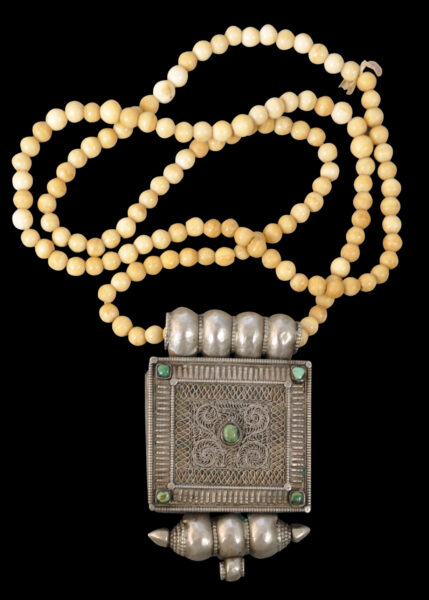 6844
Enquiry about object: 6844
Tibetan Silver Filigree Ga'u Box set with Turquoise, & a Bone Bead Necklace
Western Tibet late 19th century
length (of ga'u box): 10.6cm, width: 6.6cm, depth: 2.1cm, circumference of necklace: 105cm, overall weight: 158g
Provenance
Scottish art market
This square ga'u box, typically worn by a woman, comprises silver front and sides, and a sheet iron backing plate.
The front is decorated with silver filigree work and other applique wire work, within a border of chased ribbing or petal elements. It is inset with a central turquoise cabochon and four further turquoise cabochons in each corner.
Such a ga'u served as a protective amulet box and would have been worn suspended from the neck.
The ga'u was worn suspended from the top gadrooned tube. A stylised dorje ornament decorates the other end which will be at the bottom of the ga'u if worn correctly.
The ga'u is suspended from a fine set of 140 beads, each carved from bone – probably human bone. The beads have a lovely patina and a honeyed colour from age and handling.
The age of this box is testified to by the substantial wear to the suspension tube but also to the loop below the dorje ornament from which further chains and decorations were suspended.
The ga'u and beads are in fine condition.
References
Clarke, J., Jewellery of Tibet and the Himalayas, V&A Publications, 2004.
Proser, A., (ed.), Pilgrimage and Buddhist Art, Asia Society Museum/Yale University Press, 2010.
Reynolds, V. et al, From the Sacred Realm: Treasures of Tibetan Art from the Newark Museum, Prestel, 1999.