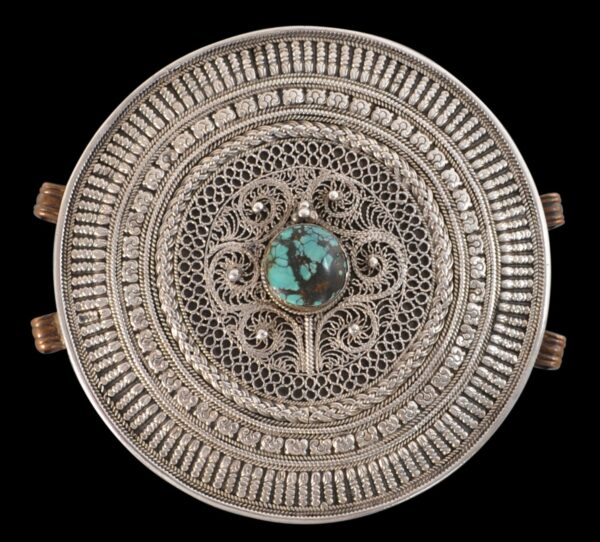 9379
Enquiry about object: 9379
Tibetan Large Round Silver Ga'u set with Turquoise
Western Tibet 19th century
diameter: approximately 12cm, depth: 3.7cm, weight: 250g
Provenance
private collection, London, UK
This beautiful, large, round ga'u box, typically worn by a woman, comprises a silver front, and copper sides with two pairs of attractive copper loops on each side to allow suspension, and a well-worn copper backing plate.
The front is decorated with silver filigree arranged in tight scrolls, plaited silver wire, 'pearled' silver, applied silver granulation work and other applique work, all within a broad outer border of applied petal elements. It is inset with a large, central turquoise cabochon in a high silver box setting.
Such a ga'u served as a protective amulet box and would have been worn suspended from the neck.
The box is unusually large and in excellent condition with obvious age and a lovely patina.
References
Clarke, J., Jewellery of Tibet and the Himalayas, V&A Publications, 2004.