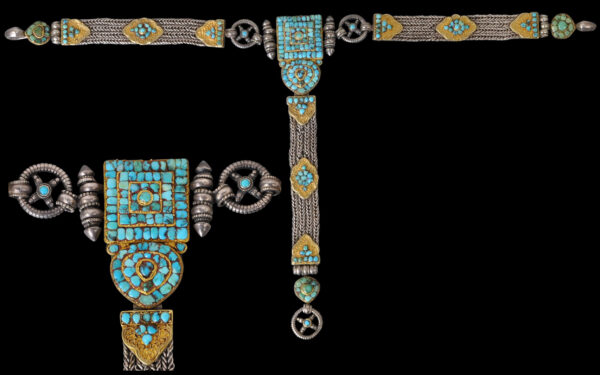 8885
Enquiry about object: 8885
Tibetan Silver, Gold & Turquoise Woman's Belt Ornament (Ghanjen or Gyenzen)
Lhasa, Tibet 18th-19th century
width: 40.1cm, length: 21.8cm, weight: 234g
Provenance
private collection, UK
– scroll down to see further images –
This T-shaped belt or waist ornament would have been worn by a wealthy and probably aristocratic woman in Lhasa, at waist level. It is essentially of silver and then laden with turquoise and gold plaques. Such ornaments were worn on important public occasions.
It comprises three heavy straps, each of four, wide cords of woven silver wire decorated with gold plaques overlaid with fine gold filigree and set with turquoise cabochons.
The straps or arms radiate from a central square box beneath which there is a pear-shaped ornament. These are set with fine turquoise stones in high-grade gold mounts. The horizonal arms are attached to this via round silver dharma medallions each with a central turquoise. The two horizontal arms then terminate with turquoise-studded medallions and solid cast silver hooks.
The lower arm terminates with another turquoise-studded medallion and then a round dharma medallion. The construction of the back of the central part of the ornament is also noteworthy and is unusually decorative being overlaid with a silver lattice-like structure.
Heavy waist ornaments such as these were worn with the central strap hanging down freely and with the chain attached to another part of the belt or dress. On important occasions, long strands of pearls, coral and turquoise beads were attached to the wheel-like end of the central strap. These could loop down almost to the ground and back up again where they were attached to the main garment somewhere near the shoulder.
A belt ornament of related form is illustrated in Casey Singer (1996, p. 142), Clarke (2004, p. 67), and Geoffrey-Schneiter (2012, p. 70).
The belt here is in excellent condition.
References
Casey Singer, J., Gold Jewelry from Tibet and Nepal, Thames & Hudson, 1996.
Clarke, J., Jewellery of Tibet and the Himalayas, V&A Publications, 2004.
Geoffrey-Schneiter, B., Bijoux des Toits du Monde de la Chine au Caucase, Foundation Baur, Musee des Artes D'Extreme-Orient/5 Continents, 2012.
Ghose, M. (ed.), Vanishing Beauty: Asian Jewelry and Ritual Objects from the Barbara and David Kipper Collection, Art Institute of Chicago, 2016.