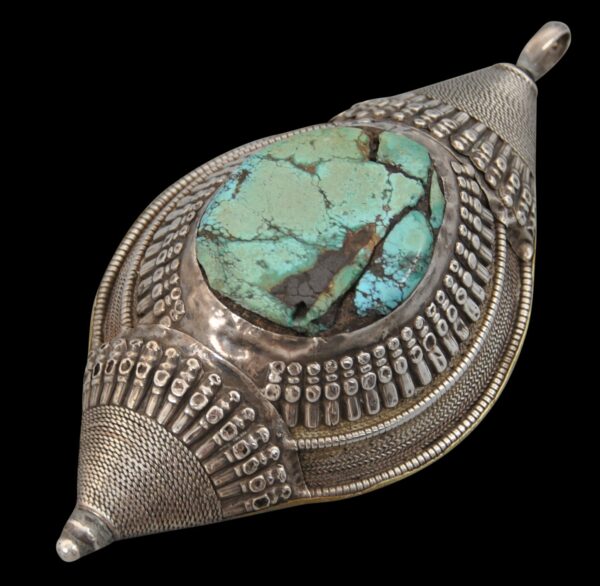 9381
Enquiry about object: 9381
Large, Tibetan Silver & Turquoise Hair Bead Pendant (with Display Stand)
Central Tibet 18th-19th century
length: 13.5cm, width: 6.8cm, thickness: 2.9cm, weight: 133g
Provenance
private collection, London, UK
This Tibetan hair bead is splendid for its unusually large size, its quality, and also for its patina and obvious significant age.
Such beads were worn in the hair by upper class women in Lhasa.
The bead features fine silver wirework, pearled wire, and granulation work. At its centre is a large turquoise cabochon and perhaps a smaller cabochon.
The reverse is of hammered, thin brass sheet.
The brass sheet is neatly folded around the base of the bead.
A similarly large example is illustrated in Geoffrey-Schneiter (2012, p. 70.)
One end if the bead has been fitted with a silver loop for suspension to all it to be worn as a pendant. Though this is not traditional, the loop appears to have good age and might have been done in Tibet. It does mean that he bead can be readily worn today as a pendant however.
The bead here is in fine condition. There are some looses to the applique work as might be expected given the age and patina of the bead.
The bead is accompanied by an attractive, custom-made display stand.
References
Casey Singer, J., Gold Jewelry from Tibet and Nepal, Thames & Hudson, 1996.
Geoffrey-Schneiter, B., Bijoux des Toits du Monde de la Chine au Caucase, Foundation Baur, Musee des Artes D'Extreme-Orient/5 Continents, 2012.
Ghose, M. (ed.), Vanishing Beauty: Asian Jewelry and Ritual Objects from the Barbara and David Kipper Collection, Art Institute of Chicago, 2016.
Seiwert, W.D., Jewellery from the Orient: Treasures from the Bir Collection, Arnoldsche Art Publishers, 2009.