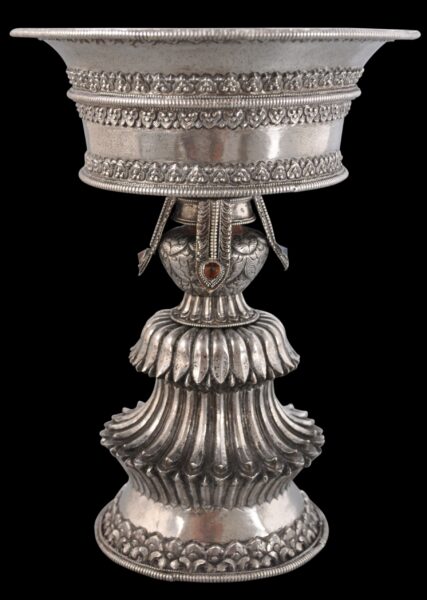 8493
Enquiry about object: 8493
Tibetan Silver Yak Butter Lamp
Tibet early 20th century
height: approximately 20cm, width: 15cm, weight: 561g
– scroll down to see further images –
This elegant and good-sized yak butter lamp is of beaten and cast solid silver. Its form is reminiscent of the Christian chalice. It would have been used on an altar, filled to the brim with yak butter oil in which a single wick floated.
The baluster-form stem is richly cast with fine lotus petal decoration. This is particularly striking, with the ribbing undulating and prominent.
Another striking feature is a the connection between the cascading lotus petal section and the bowl of the lamp itself has been cast as a finely-rendered vase of longevity (kalasha) with four leaf-form 'wings' falling over the vase in the four cardinal directions and with each terminating with a faceted blue, green or red glass 'gem'.
The lamp is in excellent condition and is without any losses, dents or repairs. It is a sculptural, impressive piece, and it sits solidly without rocking.
References
Pal, P., Art of the Himalayas: Treasures from Nepal and Tibet, Hudson Hills Press, 1991.