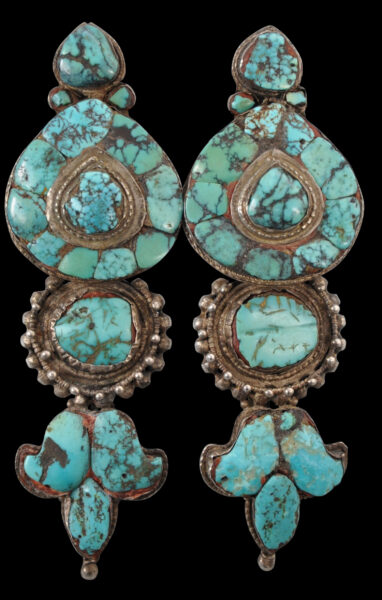 9009
Enquiry about object: 9009
Woman's Pair of Turquoise & Silver Ear Ornaments (Akor)
Lhasa, Tibet 19th century or earlier
length: 11.8cm, combined weight: 88g
This pair of ear pendants (akor) is is set with old, flat turquoise cabochon plaques within silver mounts. The mounts are further embellished with pearled silver wire and applied spheres.
The pair shows goods signs of wear and age and date to the nineteenth century if not earlier.
The reverse of each is almost as interesting as the front – the relatively primitive construction can be seen, as well as the 'rawness' of the silver that has been used. The reverse of each is also set with a small, central turquoise cabochon. They are also fitted with silver hooks to allow suspension.
Ear pendants such as these were too bulky to be worn from the ears and so were worn near the ears as if they were earrings. Typically they were suspended from the wearer's headdress.
The examples here is typical of the Lhasa style that was worn by aristocratic wives.
Ear pendants of similar form are illustrated in Casey Singer (1996, p. 126), and in Clarke (2004, p. 73).
The examples here are without losses to the turquoise, and have an excellent patina.
References
Casey Singer, J., Gold Jewelry from Tibet and Nepal, Thames and Hudson, 1996.
Clarke, J., Jewellery of Tibet and the Himalayas, V&A Publications, 2004.