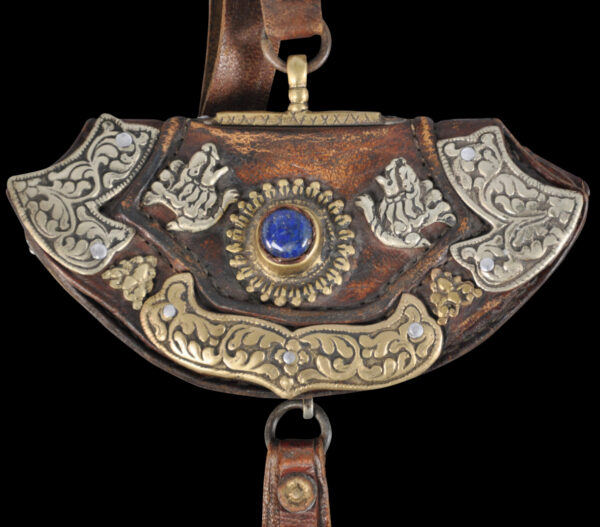 6898
Enquiry about object: 6898
Tibetan Woman's Pouch or Purse (Baghu) with Silver & Brass Mounts, Lapis Lazuli & Coral
Tibet 19th century
width: 15.8cm, height (without strap): 11cm, weight: 225g
This leather pouch or purse (baghu) would have been worn by a Tibetan woman on her belt as a sign of wealth and prestige.
The front of the purse has a leather flap secured underneath with a small catch to hold the purse closed.
The front flap and lower sides are decorated with applied silver and brass plaques, all finely worked with floral and foliate scrolls in high relief.
The middle of the flap has a large, protruding lapis lazuli cabochon within a floral, box setting. Plaques representing snow lions are attached either side.
A brass loop and mount is applied to the top of the purse to which a leather strap decorated with a floral boss set with a coral cabochon has been attached. A matching loop with a pendant leather dangle is attached to the base of the purse.
The purse is in excellent condition with obvious age and wear.
References
Berger, P., & T. Tse Bartholomew, Mongolia: The Legacy of Chinggis Khan, Thames & Hudson, 1995.
Borel, F., The Splendour of Ethnic Jewelry: From the Colette and Jean-Pierre Ghysels Collection, Thames & Hudson, 1994.
Geoffroy-Schneiter, B., Asian Jewellery: Ethnic Rings, Bracelets, Necklaces, Earrings, Belts, Head Ornaments, Skira, 2011.