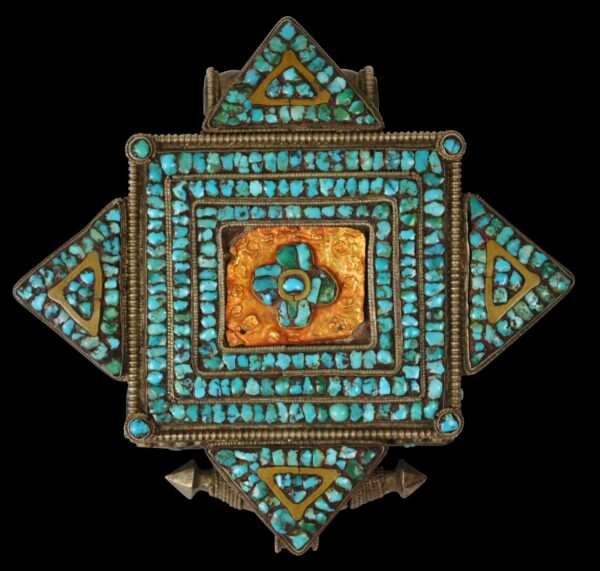 8428
Enquiry about object: 8428
Tibetan Woman's Silver Amulet Box (Ga'u) with Gold & Turquoise
Lhasa, Tibet late 19th century
length: 10.8cm, width: 11.3cm, depth: 2.7cm, weight: 98g
Provenance
private collection, London.
This very fine ga'u box is of silver alloy and copper and set with dozens of turquoise cabochons. The central square cartouche has also been decorated with an embossed gold sheet, which is original to the piece. This surrounds a central double dorje emblem laid out in turquoise.
The sides are decorated with applied filigree work and inset with more turquoise cabochons,
It has a tightly fitting backplate or hammered iron.
Double-square amulet boxes (ga'us) such as this one were worn by women and were popular in and around Lhasa. The central motif of a stylised flower bud (and possibly a wish-fulfilling vase or kalasha) infilled with turquoise chips and set among gilded filigree wire is surrounded by motifs featuring more turquoise chips.
The ga'u was worn suspended from the top gadrooned tube, which shows good wear. The lower decoration is a stylised dorje ornament which hangs at the bottom when worn. This has been decorated with bands of pearled silver wire.
Ga'us held a variety of auspicious items and served as protective or talismanic devices.
The ga'u here has beautiful patina and obvious age.
References
Clarke, J., Jewellery of Tibet and the Himalayas, V&A Publications, 2004.