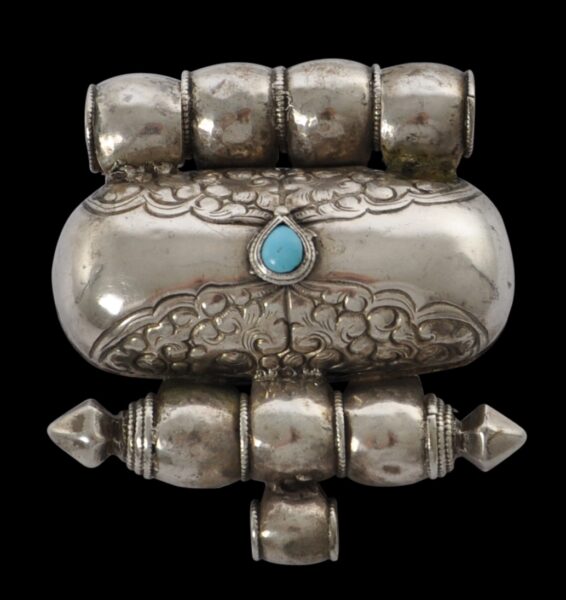 8471
Enquiry about object: 8471
Tibetan Woman's Silver Amulet Case (Ga'u)
Tibet early 20th century
length: 7.6cm, width: 7.2cm, depth: approximately 2.9cm, weight: 47g
This silver amulet case was made for a woman. It comprises an elongated oval mid-section, a tubular upper section in four parts and a dorje-shaped lower section, beneath which there is a single hoop to allow additional chains and ornaments to be attached.
It is unusual in that part of the top and bottom open with the mid-section.
The mid-section is set with a tear-shaped turquoise stone in a box setting.
Ga'u boxes were worn by men and women in Tibet and in other parts of the Buddhist Himalayas as protective amulet cases. Usually, they were worn suspended from the neck. They would contain a variety of precious and protective items such as parchment inscribed with mantras and cloth perhaps from the robe of an esteemed monk.
An example of identical form is illustrated in Seiwert, (2009, p. 170).
References
Seiwert, W.D., Jewellery from the Orient: Treasures from the Bir Collection, Arnoldsche Art Publishers, 2009.