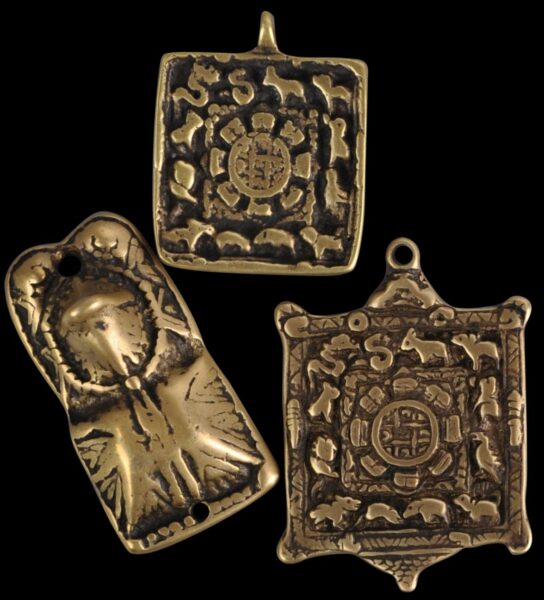 9154
Enquiry about object: 9154
Two Tibetan Zodiac Tokchas & One Other
Tibet circa 17th century
length: 5.2cm, 6.7cm and 7.1cm, combined weight: 176g
These three brass tokchas – two square calendar tokchas, and another which might be a stylised Garuda image – date to around the 17th century.
Each of the two zodiac tokchas is decorated with the twelve animals of the Chinese zodiac on one side, around an inner border that has in much-worn Chinese script, the name of the Chinese hours of the day. (Traditionally one Chinese hour was equivalent to two 'Western' hours and each hour was given a name and sign of the zodiac.) The reverse of each has been cast in relief with a Tibetan Buddhist motif.  These relate to a cloak pin with zodiac motifs published in Borel (1994, p. 168).
Each is cast with a loop at the top to allow suspension.
The larger zodiac tokcha actually has been cast as a tortoise laying on its back with feet protruding from each corner, a tail protruding from the base, and a head leading to the suspension loop. The tortoise is a symbol of power and protection.
The third tokcha has a prominent beak-like protuberance and might have represented the Garuda. It has been drilled with a hole at the top and another at the bottom to allow it to be either suspended as a pendant, attached to clothing, or used to secure an amulet bundle. It has much wear.
Tokchas (also spelt as thokcha, tokche, thogchak, thog-lcag, or thogchag) are small 'found' ancient, sacred objects that went on to serve as votive talismans, and which were valued for their magical properties. Usually they are of bronze or copper alloy. Many are believed to also contain some meteoric metal. Tibetans highly prized them and would wear them to protect them and to absorb evil. Usually they were hung from the neck or attached to clothing, but also were sewn onto amulet pouches or attached to religious articles. They were also used by Tibetan shamans – healers, spirit-mediums and magicians – as part of their 'tools' of trade.
Particularly effective or powerful tokchas would be sold on or passed down through the generations. Accordingly, genuine and powerful tokchas should show a great deal of wear, as in the case of the example here.
It is likely that many tokchas originally were belt fittings or ornaments either from Tibet or from the Eurasian Steppes and Central Asia or Persia, and were traded into Tibet along Silk Road trading routes. Others were purpose-made as talismans, which explains why some genuine tokchas can be very similar. The traditional belief however, was that tokchas were not made by humans and even that they had simply fallen from the sky. The animal motifs employed in many tokchas suggest a linkage to Tibet's pre-Buddhist Bon past. (Buddhism was introduced to Tibet in the early 7th century.)
The examples here all have much wear and visible age.
References
Bashkanov, M., M. Bashkanov, P. Petrov, & N. Serikoff, Arts from the Land of Timur: An Exhibition from a Scottish Private Collection, Sogdiana Books, 2012.
Borel, F., The Splendour of Ethnic Jewelry: From the Colette and Jean-Pierre Ghysels Collection, Thames & Hudson, 1994.
Ghose, M. (ed.), Vanishing Beauty: Asian Jewelry and Ritual Objects from the Barbara and David Kipper Collection, Art Institute of Chicago, 2016.
Heller, A., Early Himalayan Art, Ashmolean Museum, 2008.
Henss, M., Buddhist Ritual Art of Tibet: A Handbook on Ceremonial Objects and Ritual Furnishings in the Tibetan Temple, Arnoldsche, 2020.
Reynolds, V.  et al, From the Sacred Realm: Treasures of Tibetan Art from the Newark Museum, Prestel, 1999.