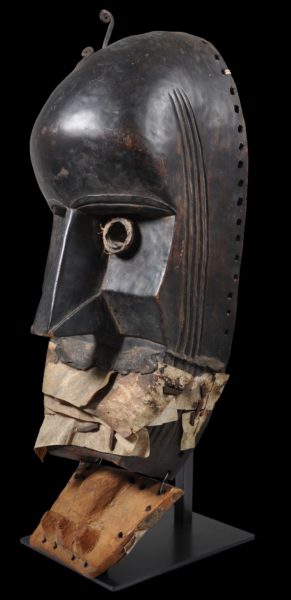 5848
Enquiry about object: 5848
Rare Toma Mask with Articulated Jaw (Landai)
Toma People, Liberia & Guinea 19th-early 20th century
height: 43cm, width: 15.4cm, depth: 14cm
Provenance
private collection, Scotland
This splendid mask known as a landai and from a private Scottish collection is from the Toma people of Liberia. It has an incontrovertible, deep and lustrous patina.
Landai masks were used by the Toma (also known as Loma) during initiation ceremonies for inductees into the Poro, a Toma men's organisations that held political, social and ritual power.
The Toma are a relatively small West African group that live mostly in the northern mountainous, sparsely populated regions of Guinea and Liberia. They are closely related to the Mende and Dan peoples.
The mask is elongated and has a bulbous forehead; raised, circular eyes; a prominent, angular nose pierced underneath with two small nostrils; and an articulated jaw made of a separate piece of wood attached to the rest of the mask by wire. The mask is engraved around the sides with multiple lines and over the eyes to denote eyebrows.
The upper and lower jaws are fixed with strips of hide. Originally, these strips would have been covered in fur but this has long worn away.
The lower jaw is carved with a tongue and three teeth.
The eyes are circular and protrude with raised ridges. The outlines retain traces of red textile and other material. Thick, metal rods protrude from the top of the mask providing additional decoration.
The wire used to attach the jaw to the mask probably is a later replacement.
The reverse shows the upper section of the mask as having been chip carved from a single piece of wood. The edges of both the mask and jaw are perforated by rectangular holes to allow it to be attached to textile that would have been pulled over the dancer's head.
The mask comes with a metal display stand.
An almost identical but larger mask but which still retains the animal fur 'beard' and with a feathered headdress is illustrated in Robbins & Nooter (1989, p. 157). Another can be see in the New Orleans Museum of Art.
Below is a related mask with a similar, separate, articulated jaw, photographed in 2019 in the Kunstkammer or Museum of Anthropology and Ethnography in St Petersburg, Russia.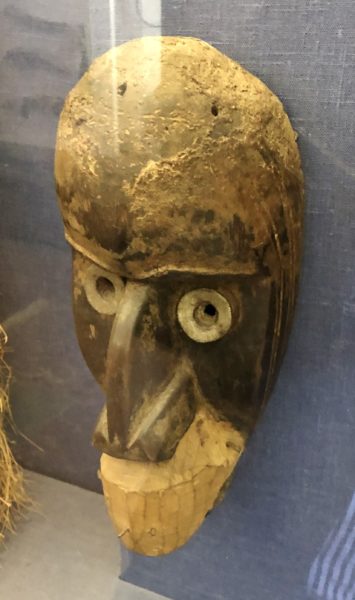 References
Robbins, W. M. & N. I. Nooter, African Art in American Collections, Smithsonian Institution Press, 1989.
Thompson, R. F., African Art in Motion: Icon and Act, University of California Press, 1974.