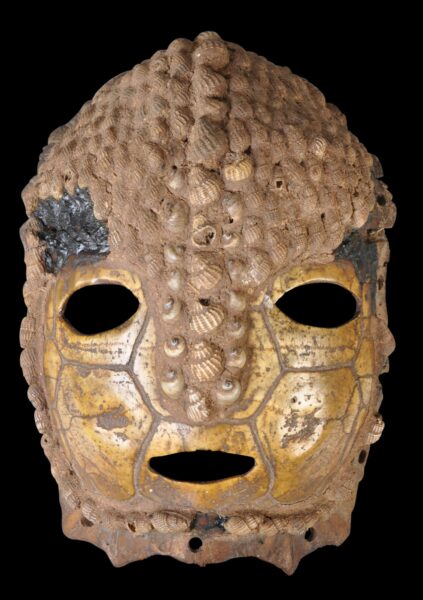 9196
Enquiry about object: 9196
Rare Torres Strait Turtle Shell Mask
Torres Strait Islands, Queensland, Australia before 1870
length: approximately 19.5cm, width: 13cm, weight: 249g
Provenance
Julian Harding, London
This rare mask is from the people of the Torres Strait Islands – the islands between Cape York Peninsula (Australia's most northern peninsula) and New Guinea. It is made from the shell of a freshwater snapping turtle (Elseya novaeguineae). Holes in the shell have been made for the eyes and for the mouth. It has been further decorated with sea snail shells that have been pressed into dark tree resin that was coated over the turtle shell.
Masks, usually made of marine turtle shell and sometimes of freshwater turtle shell, were worn at ceremonies. By the 1890s, Torres Strait culture was in decline due to the impact of missionaries and other outside influences and even by then, turtle masks had become rare.
There are thirteen .additional holes around the edge of the mask. These are typical of genuine Torres Strait masks. They were used to attach feathers, bark cloth and fibre to conceal the upper body of the dancer.
Torres Strait Islanders are distinct from both the Papuans of nearby New Guinea and from the Aboriginal peoples of the Australian mainland, but related to both.
Sculthorpe et al. (2015, p. 216) illustrates a related variant of a Torres Straits mask made from a turtle shell.
The mask here is believed to have been collected from Erub Island in the Torres Strait in or around 1870.
The shell is in excellent condition. Some of the sea snail shells that had been applied to the mask no longer are present. The rarity of the mask and its obvious age compensates for this deficiency. The mask has the most incontrovertible patina. It was collected in the 1870s and is likely to have already been old by then.
References
Sculthorpe, G., et al., Indigenous Australia: Enduring Civilisation, The British Museum, 2015.