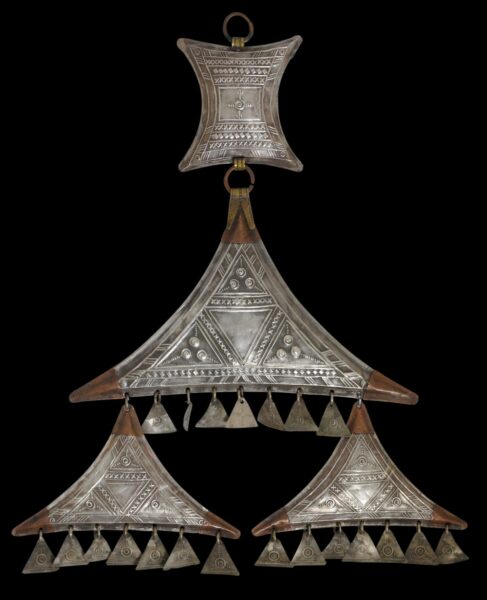 6531
Enquiry about object: 6531
Tuareg Silver & Copper Head Ornament (Tcherot or Techeout tan 'eraf)
Tuareg People, Niger, Algeria & Morocco first half of 20th century
length: approximately 29cm, width: 24cm, weight: 117g
Provenance
private collection, UK.
This striking pendant encompassing a series of geometric amulet boxes typically was worn as part of a Tuareg man's headdress. Women also wore ornaments of this type suspended from the back of the head. They might also have been worn as pectoral or chest ornaments, which is how it would now best be worn in a contemporary setting. They were reserved for festival and other ritual occasions.
The example here comprises four main amulet boxes arrayed in tree-like fashion, with the lower three having suspended silver alloy dangles.
The set is of thin, hammered silver alloy sheet with sheet copper mounts.
Amulet boxes were worn by Islamic Tuareg men and women in the northern Sahara.  Koranic verses and other protective amulets were encased inside. The amulets do not open; the contents are sealed within.
Amulets are worn because the Tuareg inhabit a world that co-exists with a powerful spirit world. The Kel Esuf ('people of the void') are active after dark. Islamic Jinns (spirits) live in the mountains and in desolated areas. The evil eye must also be warded off. Tuareg men (and not women) wear the tagulmust of face-veil over their noses and mouth to prevent entry by evil spirits.
Similar examples are illustrated in Borel (1994, p. 51), Seligman & Loughran (2006, p. 200-201), and Seiwert (2009, p. 193).
The example here is in fine condition, with obvious age and no losses. It is light and stable and easily worn suspended from a necklace.
References
Borel, F., The Splendour of Ethnic Jewelry: From the Colette and Jean-Pierre Ghysels Collection, Thames & Hudson, 1994.
Hagan, H. & L. Myers, Tuareg Jewelry: Traditional Patterns and Symbols, 2006.
Seiwert, W.D., Jewellery from the Orient: Treasures from the Bir Collection, Arnoldsche Art Publishers, 2009.
Seligman, T.K., & K. Loughran (eds.), Art of Being Tuareg: Sahara Nomads in a Modern World, Iris & B. Gerald Cantor Center for Visual Arts at Stanford University, 2006.