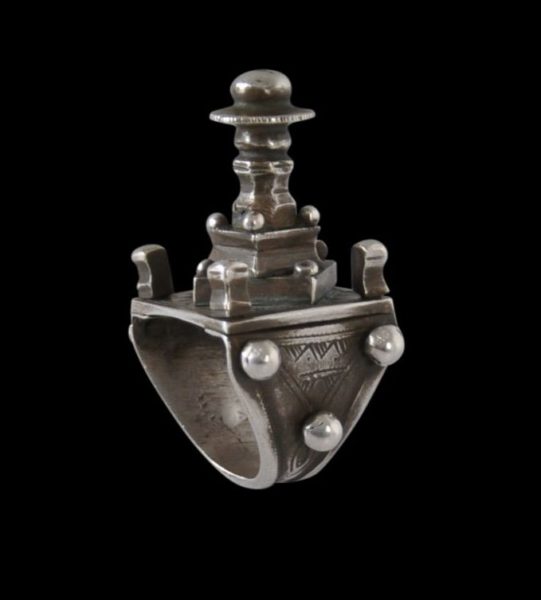 6186
Enquiry about object: 6186
Fine, Tuareg Silver Ring
Tuareg People, Mali early 20th century
height: 4.7cm, weight: 33g, ring size: UK: O/R, US: 8 1/3
Provenance
private collection, London
This excellent silver ring was made for a Tuareg man. (The Tuareg are Muslims and are a Berber sub-group and live mostly in Mali but also Niger, Libya, Algeria and Chad).
The tall, architectural form is not unlike that of traditional Jewish 'house' wedding rings which were thought to represent the marital home of the couple and possibly symbolised Solomon's Temple in Jerusalem, and might have been influenced by them given the large numbers of Sephardi Jews who lived in northern Africa. But in this instance, the form is said to represent the tall castle-like mosques of Mali. (The final image below shows the 14th century-style mosque in Djenne, Mali.)
The example here has been made from various elements that have been soldered together as well as applied granulation work (modern copies are not made of separate elements but are cast as a whole). The sides are engraved with typically Tuareg geometric motifs.
The ring has clear and ample wear and a fine patina. It is an exceptional example of this type of ring. (A related but lesser example is illustrated in van Cutsem, 2000, p. 46).
SCROLL DOWN TO SEE ALL IMAGES
References
van Cutsem, A., A World of Rings: Africa, Asia, America, Skira, 2000.