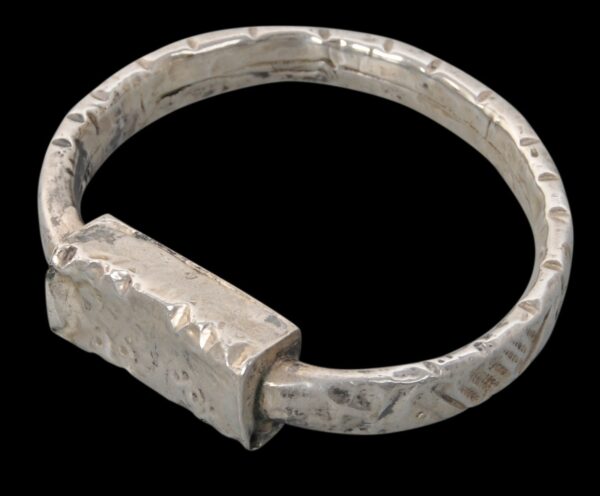 6567
Enquiry about object: 6567
Tunisian Woman's Silver Anklet (Khelkhal Menfouk)
Kairouan and Sfax regions, Tunisia 19th-early 20th century
width of hoop: widest at 12.4cm, depth of closed box: 3.1cm, weight: 55g
Provenance
private collection, Germany
This very sculptural anklet is from the Kairouan and Sfax regions of Tunisia and made to be worn by a woman. It is large and hollow – its name 'khelkhal menfouk' literally mean inflated anklet'.
It has been made from almost pure silver sheet. It has a large hoop; and a hollow, rectangular, closed box, the interior of which has been engraved with a fish motif. The exterior is embossed with  simple geometric decoration. The fact that it is the interior that has been decorated with a fish – which is association with prosperity and fertility – suggests that the intention was that it should have contact with the wearer's skin thereby transferring beneficial properties.
The anklet contains tiny pebbles that would rattle when the wearer moves, to chase away evil spirits.
A related example is illustrated in Fisher (1987, p. 262) and also in Eudel  (1906, p. 101).
Anklets of this type from Tunisia are relatively rare. This example has a wonderful patina and plenty evidence of wear and use.
References
Eudel, P., Dictionnaire des Bijoux de l'Afrique du Nord: Maroc, Algerie, Tunisie, Tripolitaine, Ernest Leroux, Paris, 1906.
Fisher, A., Africa Adorned, Collins Harvill, 1987.