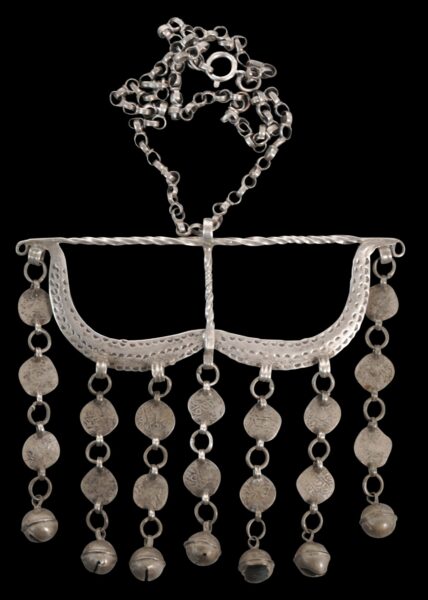 9336
Enquiry about object: 9336
Rare Central Asian Boy's 'Bow & Arrow' Silver Amulet for the Back
Central Asia or Afghanistan, probably Turkoman/Turkmen People 19th century
circumference of chain: approximately 52cm, width of amulet: 13.8cm, weight: 105g
This rare amulet was designed to be worn by a boy on his back. The amulet, in silver, represents a bow and arrow (ok yay). Chains of coin-like plaques are suspended from the pendant and the chains terminate with silver bells. In keeping with much jewellery from Central Asia (perhaps more than anywhere else), its main function was to serve as a protective, talismanic device.
The simplicity of this example is its attraction. Later (and perhaps questionable) examples are more elaborate being inset with carnelians or red-coloured glass.
An example is illustrated in Seiwert (2009, p. 235). A later example is illustrated in Daalder (2009, p. 349).
The example here is in fine condition. One of the suspended bells has its lower section missing. The pendant has been suspended from an old silver chain with a modern clasp – this makes it wearable in a modern context.
References
Daalder, T., Ethnic Jewellery and Adornment: Australia, Oceania, Asia, Africa, Ethnic Art Press/Macmillan, 2009.
Seiwert, W.D., Jewellery from the Orient: Treasures from the Bir Collection, Arnoldsche Art Publishers, 2009.