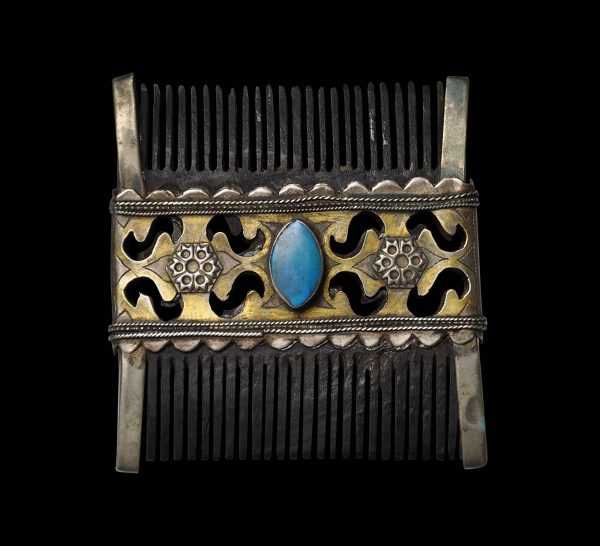 3082
Enquiry about object: 3082
Turkmen Parcel-Gilt Silver Bridal Comb
Turkmen People, Central Asia early 19th century
length: 6.2cm, 25g
This double-ended, 'H-style' comb from the Turkmen people of Central Asia comprises two sets of wooden teeth with a central sheet silver grip decorated with pierced arabesques highlighted with mercury-fired gilding, bands of twisted filigree silver wire, a pair of applied silver rosettes on each side, and also on each a central, oval blue turquoise cabochon.
Traditionally, Turkmen families married off their daughters between the ages of twelve and fifteen. The daughters would be bedecked with a heavy array of wedding jewellery for the occasion. Hair combs such as this example would have been used in conjunction with these celebrations.
Turkmen combs are relatively rare. This example has a fine patina and obvious age. The silver has developed a softness from use and handling. All the teeth are intact.
References
Borel, F., The Splendour of Ethnic Jewelry: From the Colette and Jean-Pierre Ghysels Collection, Thames & Hudson, 1994.